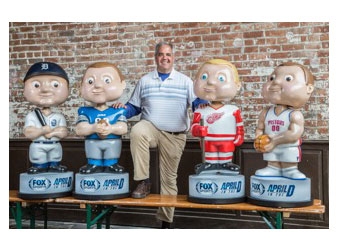 Detroit's Display Group, located in Packard Building #22, has expanded its client offerings to include a full suite of three-dimensional design and production offerings.
"We made a significant investment in new equipment and talent so that we can service our clients with their need for oversized items for exhibits, trade shows, sets, outdoor signage, architectural accents and restaurant and event décor," said Rick Portwood, president, Display Group.
As the only company in Michigan with a full suite of 3-D services under one roof, Display Group's new equipment includes:
Digital Design and Miniature Fabrication
Digital 3-D Scanning
Digital 3-D Routing
Digital Hot Wire Cutting, With a Turntable Base
Artisan Hand Sculpting & Finishing
Hard Coating Spray Booth for durable finish
Finish Painting
Storage & Delivery Services
"Display Group believes that these new offerings will greatly complement our existing services, added Portwood. "Combined with our existing rental inventory and custom graphic capabilities, we will be able to give clients a custom look, without a custom price tag."
The DG3D studio has already created materials for HAP, Quicken Loans, Rocket Mortgage, Title Source and Fox Sports with this new technology.
"We had the pleasure of working with the DG3D Creative Studio on 24 vintage bobble heads for our annual April in the D promotional campaign," said Lauren Pober, director of marketing for FOX Sports Detroit. "This new technology is going to inspire a lot of innovative ideas for area creatives."
The Display Group has added six new employees to date for the DG3D Creative Studio, totaling 40 full and part-time employees at the company.
Several hundred guests are expected at a client event this evening to launch the new service. As always, Display Group parties are something special. Tonight's event is channeling The Velvet Underground, and features the music of Nicole New.