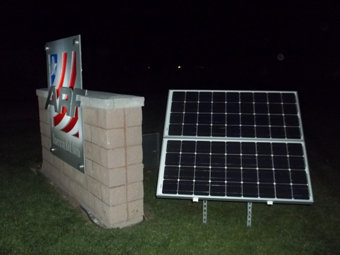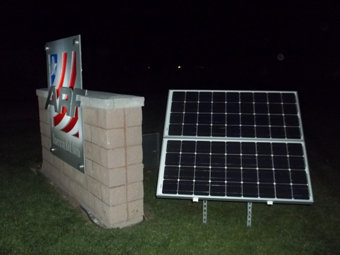 Custom dimensional work takes some additional time and effort, but it can set a company apart from the rest with a unique branding look that is anything but mass-produced.
And this is the appearance American Roll Form (ARF) was seeking when it came to Agile Sign and Lighting in Eastlake, Ohio.
ARF desired a monument sign that would create an iconic impression at its front entrance. This full-service custom metal fabricator is no stranger to unique construction, and it wanted this sign to reflect its logo and base product line.
The entire project took about a year, with most of that time spent waiting for ARF to carve out a space in its budget for the sign. Once Agile received the signed contract, the fabrication and installation only took three months.
ARF started by supplying Agile with its logo and asked the shop to build a design from it. Using CorelDRAW®, Agile drafted a design and sent it to Ron Beech, owner at FabTech Ohio in Willoughby, Ohio, who finalized the design and handled the fabrication.
FabTech specializes in custom sheet metal fabrication, welding, and forming, and it felt right at home on this job. "When the customers come [to us] with a project, we just fill in the blanks and make it out of something real instead of just a piece of paper," says Beech. "We're just modern-day blacksmiths."
FabTech took Agile's design and fleshed it out by adding details and then incorporating it into CAD software. "They used the CAD program to pull out specific points of the design to create the template to actually do the cutting," says Bruce Langguth, account representative at Agile.
FabTech then sent the design to Agile for proofing. "Because you always have the artist's interpretation, the fabricator's point of view, and then the salesman's ideas, you have to make sure that everybody's still on the same page," says Beech. "The biggest thing with me is just having a good line of communication.
"No one wants to buy what they didn't want, and it's hard to sell what they don't want."
The final approved design had an industrial look and feel to it. "We have a tendency to become a lot more industrial," he says. "It happened to be on this project that they wanted those crisp lines, thickness of material, giant screw heads, and things like that. So it was a project that was really easy for us."
Not all of FabTech's custom jobs are as easy—in fact, the nature of custom work can result in some complicated projects. But Beech stresses to never take on something that you can't handle. "Always stay within your own technical abilities," he says. "Don't try to sell something you can't do.
"Learn where your limits are, stay with it, and make sure your customer understands that."
The sign letters and panels were fabricated from 5/8-inch aluminum to achieve an industrial appearance, but it was important that the sign was not too thick. "When you start making it too thick, it becomes too tempting for somebody to want it for scrap value," says Beech. "It's a very expensive piece of aluminum that we have sitting up there."
Because of the material thickness and the precision needed, all of the pieces were cut out using a CNC water-jetting machine, which achieved the sharp, crisp corners and lines. It took FabTech about three hours to cut out all of the pieces (which included letters, a star, and the main sign panel).
While all of the sign pieces were made out of aluminum and sent out to be anodized, different finishes were used on different sections. The letters feature a horizontally brushed finished, while the main panel has a mill finish. These two distinct finishes help to lend dimension and contrast to the sign.
Portions of the sign that would be colored and placed between the main panel and an aluminum backing piece were cut out from 1/8-inch aluminum. They were then powder-coated and painted red, blue, and black.
All of the pieces were fastened together using mechanical stainless steel screws. This enables individual parts to be removed and replaced (if needed).
When the sign was completed and sent back to Agile for installation, it stood sixty-two inches tall and four feet wide.
Agile called on its staff mason next to create a stone monument base for the sign. The mason dug and poured a 42-inch footer on site and built the 250-pound, four-foot-tall monument on top of it. He also created a recessed reveal in the monument for the aluminum sign panel. (Note: It took about a day to build the monument base.)
Agile then installed the sign panel. "When we had the sign manufactured, we got a template also, so we put that on the monument itself and prepared the holes," says Langguth. "There are threaded studs that are holding it in that are epoxied in. We just had to make sure that we had good substrate behind it for the epoxy to bond to." (Note: Agile drilled four holes for four studs to hold the sign in place.)
It took two installers about four hours to lift the sign into place and secure it.
Aside from the fabrication, there is another unique element about this sign—the solar panels. ARF also manufactures brackets for solar panel packages, and it wanted this to be represented in the sign design, as well. "We could've put the solar panels behind the sign and they still would've gotten full sunlight, but [ARF] told us to put it up front where it can be seen,'" says Langguth. "So we placed it right next to the sign. It's actually part of the whole package."
The solar panels illuminate an LED floodlight for up to seven days in cloudiness. Ameresco Solar specified and supplied most of the illumination package.
Aside from the obvious green benefit, the solar panels also help ARF save some green. "We didn't have to trench and run an [electrical] line all the way from the building," says Langguth..
ARF was pleased with the final results and now has a unique, dimensional sign that identifies its brand.
By Ashley Bray
Photos courtesy of Agile Sign & Lighting.