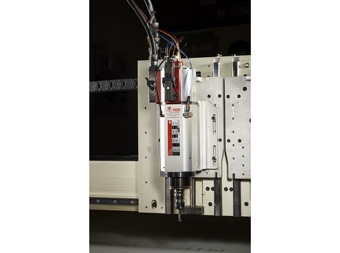 AXYZ International, a leader in CNC router manufacturing, is pleased to offer the next step in high-speed machining processes. Spindles are no longer limited to running at 24,000 rpm. That bar is raised with a new PDS XLC70 quick release, 3.0 horsepower spindle, capable of operating at speeds up to 40,000 rpm, while maintaining the same high-quality cut edge finish.
"Manufacturers who want to increase productivity will find that since the spindle is able to spin tools almost twice as fast as other models, materials are cut faster. As a result, customers profit from finishing jobs more quickly and seeing a swift return on the machine investment," said Robert Marshall, vice president, Market Development.
Cutting speed isn't the only benefit of the high-speed spindle. It also enhances the quality of the cut and produces products with high quality edge finishes, making the spindle exceptional for use when machining plastics, acrylics, and nonferrous metals.
An unmatched feature among other high-speed spindles, the PDS XLC70 does not require water cooling. Instead the spindle is cooled by compressed air, eliminating the need for expensive water chillers.
"This spindle is 100 percent rated, designed for S1 duty cycle and can run at full speed and on full power all day. There is no need to let the spindle cool down before machining the next project," said Marshall.
This new spindle is built by Precision Drive Systems (PDS), an American company and industry leader in precision high-speed spindles. Their spindles are built to endure demanding applications, delivering superior quality, highest performance and greatest value to a broad range of customers and industries.
Customers can specify the PDS XLC70 High-Speed Spindle on all AXYZ Pacer and Trident series machines, with or without automatic tool change. In addition, the spindle is available as a retrofit for existing machines, subject to specification. Visit the Burlington office and showroom, located at 3100 Harvester Rd, Unit 4, in Burlington, Ontario to see the new high-speed spindle in action.
For further information, call 800/361-3408 or visit www.axyz.com.