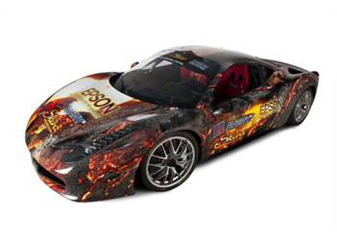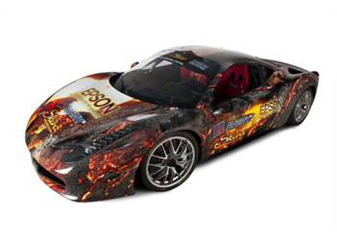 Epson America
,
Avery Dennison
, and
SkinzWraps
have joined forces for a second year in a row to produce and display a custom wrap on an exotic sports car. A 2010 Ferrari 458 Italia, worth an estimated $250,000, will be on display in Epson's booth at SEMA 2011 (Specialty Equipment Market Association) in Las Vegas, Nov. 1-4. In addition, Epson, Avery Dennison, and SkinzWraps will be hosting daily live wrapping demonstrations of a Smart Car in Epson's booth, #12173.
The custom wrap entitled "Burning Down The House" was designed, printed, and applied by SkinzWraps using an Epson Stylus® Pro GS6000 printer and Avery® MPI 1005 SuperCast media. At the conclusion of the show, the car will be transformed quickly and easily back to its original design. In addition, Epson, SkinzWraps, and Avery Dennison will demonstrate how vehicle wraps are printed and installed by applying a different wrap to a 2012 Smart Car on each day of the show live in the booth.
"After the success and enthusiasm of the wrapped Bugatti Veyron at SEMA last year, we were excited to tackle another supercar project with Avery Dennison and SkinzWraps," said Reed Hecht, product manager, Professional Imaging, Epson America. "In addition, the live demonstrations of a Smart Car being wrapped on the show floor give show attendees a firsthand look at the technology, details, and skills involved in creating a wrapped vehicle."
The Ferrari 458 Italia has garnered over 30 international awards and is derived from a shared Ferrari/Maserati design. The two-seater berlinetta benefits from the company's Formula 1 experience, and is powered by a 4.5-liter, 8-cylinder engine that produces 562 horsepower. The powerful engine and seven-speed dual-clutch transmission enable it to achieve 0-62 mph in less than 3.4 seconds and a maximum speed in excess of 202 mph.
"The Ferrari 458 Italia has been called a synthesis of 'style, creative flair, passion, and cutting-edge technology,' which is exactly how we feel about our business and our work with the Epson Stylus Pro GS6000," said Peter Salaverry, CEO, SkinzWraps. "The Epson GS6000 combined with the Avery 1005 SuperCast media allows us to produce rich, vibrant colors and deep blacks with amazing details that make it worthy of being on a Ferrari 458 Italia."