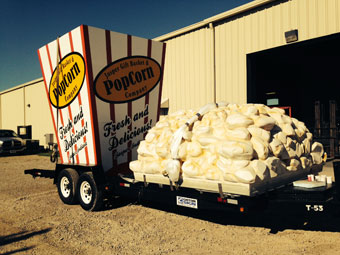 Eckert's is a dual storefront in Jasper, Indiana owned by Tom and Juanita Eckert, which boasts a pool supply store as well as Jasper Gift Basket and Popcorn Company. While the pool supply store (which has been open since 1996) is well known to locals, the gift basket store is not as recognizable.
So the Eckerts decided to add a special kind of sign that would attract the attention of not only the locals but also any tourists driving through. They turned to Custom Sign & Engineering, Inc. (www.customsign.bz) to translate their vision into reality.
"Tom walked through the door and said, 'I want to build a roadside attraction,'" says Debra Mounts, sales consultant and designer for Custom Sign.
The idea was to promote Jasper Gift Basket and Popcorn Company by placing a giant box of popcorn out front. "We travel a lot to different areas, and we always remembered where the big, iconic signs were," states Juanita. "You remember that versus just a digital sign or a sign on your front door."
Tom gave Mounts a twelve-inch popcorn box nightlight that is sold in his gift shop as an example of what he wanted it to look like. The box would slide down onto an existing light pole on site and would sit at an angle.
But the Eckerts wanted the popcorn sign to be anything but snack-sized.
"I took the idea from the little miniature they gave me and created a layout," remarks Mounts. "I first created it nine feet tall, and he said, 'Well is that the biggest you can make it?'"
The final design in CorelDRAW ended up calling for a fourteen-foot-tall popcorn box.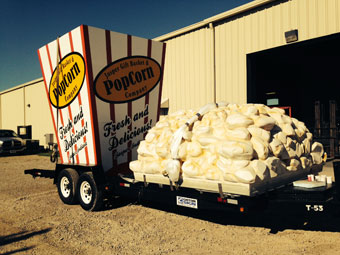 But the shop couldn't start popping this popcorn sign just yet, as the Eckerts ran into some zoning issues regarding the size of the sign.
The possibility of this towering snack stirred up the community and brought out plenty of opinions both for and against the sign. The Eckerts were persistent however, and they were eventually granted a variance by the local zoning board.
With the project green-lighted, Custom Sign began to look for a way to make the popcorn topper that would sit on the box.
After consulting with a few companies and being told it couldn't be done, Custom Sign turned to Peachtree City Foamcraft (www.foamcraft.info), which it had worked with in the past. "Most times, when people have really cool ideas, they don't have an ability to make that idea come true," says Michael Fetter, sales manager at Peachtree. "So what they do is they look for somebody like us."
Peachtree is no stranger to sculpting popcorn, and as soon as they saw the design, they were in. They even sent Custom Sign some pictures of past popcorn projects to give them an idea of what they could do.
The first task was getting the popcorn to look like actual popcorn. "It was a challenge for us to make realistic-looking popcorn in a three-dimensional application like they requested," comments Fetter.
Much like when they carve their foam to resemble stone or brick, Peachtree needed a sample to copy. So they got a bowl of popcorn and used that as a guide for sculpting this snack out of EPS foam.
In addition to the appearance, Peachtree also had to take the weather into consideration. "When most people, especially in the North, come up with really cool ideas, they don't think about water or snow run off," says Fetter. "So when we were hand sculpting the kernels, everything had to be laid out in a way that, if snow sat in there as it melted, it would drip and run off the unit."
Peachtree also hollowed out a pass-through for the light pole at the appropriate angle.
When the sculpting was complete, Peachtree coated the popcorn with its Poly-Armor™ hard coat to further protect against the elements. It used a combination of spray and hand painting to emulate the snack's buttery color. "We use 100 percent acrylics; that way, the foam, the plastic, and the finish all expand at the same rate, so we don't have degradation due to weather," explains Fetter.
Finally Peachtree incorporated a six-inch wood structure for attaching the popcorn topper to the box. "We always incorporate substructure, and it can be anything from wood, aluminum, to steel that will allow our customers to mechanically fasten our architectural elements to their entities," says Fetter. "That's all laid out in computer design, and we build it exactly to their specs, so that way, it fits to their steel or aluminum structures."
The fabrication of the popcorn topper took about ten days, and Peachtree shipped it to Custom Sign when it was completed. (Note: To fit the topper in the truck, the popcorn had to be placed on one of the flat sides of its head.)
Meanwhile Custom Sign was working on the four-sided popcorn box, which is made from aluminum panels that were cut on an AXYZ CNC router.
The panels were attached to an aluminum frame and then finished. "We body finish the panels like you would a car," says Mounts. "[Our fabricators] prep it, put Bondo® on it, and caulk the inside."
The box was then brought into the Matthews Paint booth where red and white stripes were painted on it.
Additional decorations included decals for the words "Jasper Gift Basket and Popcorn Company," "fresh and delicious," and "Jasper, Indiana." Using a Mutoh eco-solvent digital printer, these decals were printed onto 3M™ Controltac™ Graphic Film Series 180 vinyl with a matching overlaminate and applied to the box.
The popcorn box and topper were put on a trailer in two pieces and sent to the job site for the one-day installation.
Service equipment was used to lift and slide the box onto the light pole and to attach the popcorn topper. The box was secured with a bolt cage structure that it sat on. "We put bolts and match plates on the asphalt to secure it to the asphalt and support the weight of it," says Mounts.
The very next day, Tom and a team of workers were out creating a three-foot-tall block wall and landscaping around the sign to make it the perfect place for photo ops.
The popcorn box is serving its purpose and is helping to draw people in for a taste of the popular snack.
"We love it," says Juanita. "The finished project was just exactly what we wanted—and more."
By Ashley Bray
All photos: Custom Sign & Engineering, Inc.