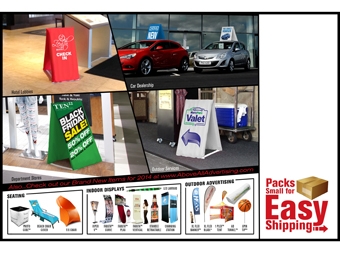 As a follow-up to its highly popular AirVue™ inflatable anywhere display system, Above All Advertising, Inc., a San Diego-based provider of inflatables and business signage solutions, has just announced the release of its most innovative product to date—the Aire Frame™ inflatable A-frame. Anticipated to be an industry leader, the multipurpose A-frame is designed to not only attract the attention of purchasers' customers, but also reduce their expenditures on a long and short-term basis through its variety of innovations.
Interchangeable Graphics. Unlike other A-frames on the market, the outer sleeve of the Aire Frame™ can easily be customized in accordance with customers' needs and promotions. As a result of its interchangeable graphics, the Aire Frame can be used for multiple advertising campaigns, so that customers will no longer need to purchase an entirely new A-Frame every time they initiate another promotion, resulting in substantial cost savings."
Lightweight and Easy to Ship and Store. Weighing either 2.5 or 3.5 pounds, depending on which model customers purchase, the Aire Frame is the lightest A-frame available on the market today. The product's lightweight frame ensures purchasers' shipping costs decrease, while the shipping process, as a whole, eases considerably. The product can also be rolled-up compactly, requiring much less storage space than any other industry standard A-frame.
Retail Friendly. Designed with the "big box" retailer in mind, the Aire Frame occupies significantly less retail shelf space than any other product in its class.
Simplified Setup and Take Down. Unlike other A-frames, the Aire Frame can easily be filled with both air and water to help streamline and accelerate the setup and take down processes. Therefore, purchasers will have more time to focus on what really matters: their business needs and profit margins.
High-end and Durable. Similar to all other Above All Advertising, Inc., merchandise, the Aire Frame is designed with only the highest quality products available. Its inner lining features new age, ripstop nylon material, while its interchangeable graphics are designed with a premium stretch polyester.
Highly Adaptable and Portable. The Aire Frame can also be used both indoors and outdoors, whether purchasers need to advertise at concerts, retail stores, trade shows, or on stationary vehicles. And, due to its smaller size, it can easily be transported from one venue to the next.
"Now that the Aire Frame has been released to the public, business advertising will never be the same again," said Gary Aires, CEO, Above All Advertising, Inc. "If customers have ever had communication issues, or any other type of concern for that matter, with their previous A-frame purchases, the Aire Frame™ is guaranteed to solve these issues once and for all."
Available in two sizes, small (20 inches wide-by-33 inches tall) and large (29 inches wide-by-33 inches tall), the Air Frame is currently patent pending and available for purchase.
For information regarding rates and other product features, call 866/552-2683 or visit www.abovealladvertising.net.