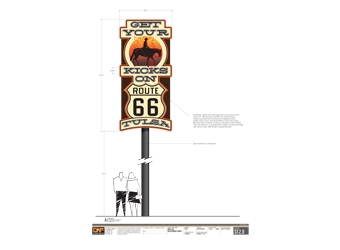 Recently, a Paris cab driver asked my wife and I where we were from. When we answered Tulsa, he said, "Oh, you are on that Road 66." The unique cultural status of our beloved highway has an allure across time and the world's oceans.
The Route 66 Development group, Inc., has installed nine large, framed vinyl "Wall Art" prints of classic cars and "color splash" technique applied to nostalgic photos along Tulsa's Route 66. The building/business owners all saw the need to add some color to their older buildings and celebrate their location on America's most famous highway.
The second and current project is to erect a two-sided eighteen- to twenty-foot iconic neon sign that celebrates Tulsa's location near the Heart of Route 66 and uses the well know lines from Bobbie Troup's song lyrics: "Get Your Kicks on Route 66."
The approach uses the same financing model as successfully used with the "Wall Art" project. The underwriting of the sign is to show community support for the effort but to leaves room for some broader participation by a public that loves the highway and neon signs. The latter is accomplished with the ability of individuals to use the Web site http://www.route66dg.com to view the two alternative sign designs and help select and install the winning design.
Two alternative signs use a similar theme: the first is a 'kicking' cowboy and the second is 'kicking horse'. Fans of the highway can vote on the Web page for one or both and help be a part of adding some new color to the highway. The sign campaign is also used as an example to encourage other business owners to relight their inoperative signs or to install new ones to help "relight the night." Thoughtful investment and new visual vibrancy helps preserve this great asset.
We encourage readers from all over the world to participate by using the Web site to view and "vote" for the new activated neon sign. Help relight our cultural jewel.
All "votes" are tax deductible, no personal or card information is retained, and 100 percent of the funds go to the new neon sign with none to administration expenses.
—Russ Roach
Russ Roach is founder and President of Route 66 Development Group, Inc. He is trained in City Planning and Economic Development and served 16 years in the Oklahoma Legislature.