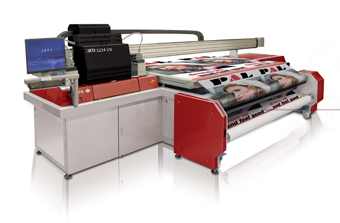 At GRAPH EXPO 2011, Agfa's booth (#1227) will feature an inkjet experience that people don't always get to see: a comprehensive showcase of real-world applications that creatively portray inkjet output in various environments—home decor, a fine art gallery, outdoors and a retail setting. Agfa offers its customers the largest portfolio of inkjet products and is showcasing a wide assortment of applications to creatively demonstrate its product capabilities.
Step on that tile floor: it's inkjet. Turn on that lamp: it's inkjet. That painting on the wall? That's a fine art replica (a digital masterpiece, if you will) courtesy of Agfa inkjet.
Inkjet wall surfaces, floor murals, tabletops and curtain panels can all be found at the Agfa booth. There will also be retail POP applications, backlits, window graphics, vehicle wraps and more. Agfa's Application Zone will also feature a graffiti-proof application for outdoor surfaces—thanks to inkjet technology.
"Our unique 'Application Zone' shows printers why they should transition to wide format inkjet and how they can create new revenue streams and diversify their portfolios," said Deborah Hutcheson, Director of Marketing, Agfa Graphics, North America. "In addition to displaying our vast assortment of wide format engines, inks and media, we are educating our customers on entering new wide format growth markets by showcasing these applications and end results."
In addition to the Application Zone, there will be many inkjet systems running live at the booth (#1227). The exhibit will also feature Agfa's prepress, pressroom, and packaging solutions.
GRAPH EXPO is scheduled to be held September 11-14 at McCormick Place South in Chicago, Illinois.
For more information about Agfa, visit www.agfa.com.