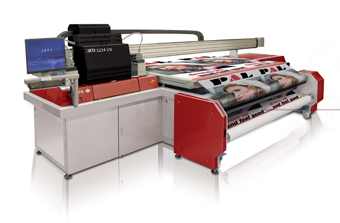 Agfa Graphics will be displaying and demoing many new products at Print World 2010 in Booth #1200.
This includes:
:Apogee 7.0 (first time in Canada)—The newest version of the award-winning :Apogee workflow management suite includes :Apogee Impose, an imposition module that relies on live job information rather than templates to perform imposition. Additionally :Apogee 7 allows print buyers to go beyond the web-to-print screen to create new jobs in the prepress stage with WebApproval. :Apogee 7 also includes :Apogee Portal 7, the latest version of Agfa's popular portal for file uploading, preflighting, and softproofing that provides advanced functionality for user convenience and automation.
Agfa's complete portfolio of plate solutions will also be on display. Print World attendees will see the new :Amigo TS low-chemistry plate which runs up to 50 percent faster than its predecessor. :Amigo TS offers improved contrast and increased daylight stability.
Agfa has also teamed with sign and graphic arts industry supplier ND Graphics, and will be conducting live demonstrations of:
:Jeti 1224 UV HDC—The new :Jeti 1224 UV HDC (High Definition Color) is built on a solid steel platform and features a unique, linear motor driven vacuum bed for highly accurate dot placement in both flatbed mode or with the optional roll-to-roll (RTR) feature. The :Jeti 1224 UV HDC's flatbed architecture can print on anything up to two inches thick and with its industrial grade construction can support media rolls up to 250 lbs. The :Jeti 1224 UV HDC is the first :Jeti printer to use the Ricoh Gen 4 variable grayscale print head technology. With four-color and white as standard the :Jeti 1224 UV HDC delivers equivalent speeds in both binary and grayscale modes at resolutions up to 1200 dpi.
:Anapurna M4f—an industrial UV inkjet printer that provides photorealistic quality and can produce POP, displays, posters, exhibition panels, stage graphics, ad panels and more. It features a print resolution of 720-by-1440 dpi and a maximum printing width of 160 cm (62 inches).
Print World 2010 is being held November 20-22, 2010 from 10:00 a.m.-5:00 p.m. at the Direct Energy Centre (formerly known as National Trade Centre) located in Exhibition Place, Toronto.
Additional product and company information can be found on Agfa's home page on the World Wide Web at: www.agfa.com.