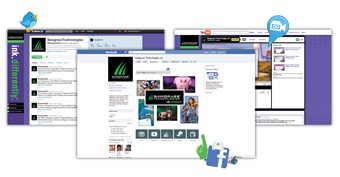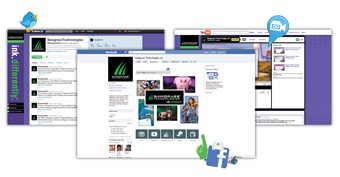 Sawgrass Technologies Consumer Division, a world leader in the development of profitable solutions for digitally printing consumer products, has expanded its social media presence on facebook, Twitter, and YouTube.
The social networking sites will be kept up to date with all the latest activities at Sawgrass Technologies. They are the go-to place to learn about new products, events, training, webinars, webcasts, and technical information.
"Sawgrass' social network channels are a great way to stay informed and up to date with everything Sawgrass has available to support clients, their business and the industry… instantaneously," said Mike McEvoy, director of Marketing Communications for Sawgrass Technologies.
Facebook: "Like" Sawgrass Technologies facebook page because you like and use Sawgrass' sublimation technology. Sawgrass' facebook page is the source to view recent photos from trade shows/industry events, as well as, access the entire library of educational webcasts for helpful hits and inspiration.
Twitter: Follow @SawgrassInk for daily updates on what is new and exciting in the sublimation and cotton transfer digital decorating industry. Tweets cover topics such as deals on software, live educational seminars, online free Sawgrass' webinars presented by Industry experts, trade show free passes and much more.
YouTube: Subscribe to Sawgrass' YouTube channel to receive latest uploads. Sawgrass' videos clearly demonstrate digital decorating on a wide range of profitable substrates including apparel, awards, promotional products, photo gifts, spirit products, and souvenir items. Not sure of the process to digitally embellish a certain type of product? Each video includes step-by-step instructions and related resource information to show you how it is done. Videos are a great resource that will help you to start generating profits in no time.
For more information, visit www.sawgrassink.com.