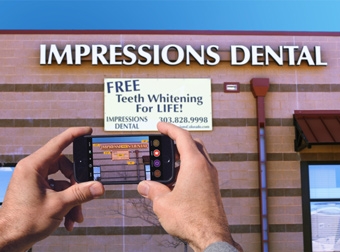 The Sign & Graphics Division of Alliance Franchise Brands recently announced a new partnership with ikeGPS for their product Spike, the world's first laser accurate Smartphone measurement solution. Spike is quickly becoming the top measurement solution in the US for the sign industry by revolutionizing the way sign and graphics companies capture measurements for sign estimates and conduct site surveys.
Spike is a laser-accurate Smartphone measurement solution that allows you to quickly measure locations for signage by capturing the width, height, and area of a space – simply by capturing a photo from your Smartphone or Tablet. The Spike device, Spike mobile app, and your Smartphone or Tablet all work together.
Some Alliance Franchise Brands have already jumped at the chance to integrate Spike into their site survey and estimating workflow, including Roy Morgan of Signs by Tomorrow in Wilmington, N.C. "We have been using Spike for about one month now and the accuracy is amazing. Really great time saver for getting measurements to provide quotes. We are still learning the many different ways we can put Spike to use," explained Morgan.
Sign companies use Spike to quickly and easily capture the dimensions of existing outdoor signs or placement of new signage; not only can users save time and money on site surveys with Spike, but by turning estimates around faster you can also win more jobs. Once on site, users can capture photos of the available space or existing signage using their Smartphone and Spike; with no need for a ladder or service truck.
"Spike has the potential to be a great cost-savings estimate tool for our franchise members. It eliminates the need for ladders or bucket trucks to measure certain types of projects on initial site visits. Plus, it increases the time and efficiency in getting a quote to the customer," said Eric Esch, vendor programs manager for Alliance Franchise Brands, Sign & Graphics Division.