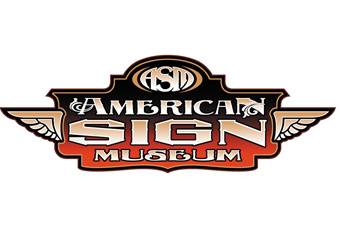 The American Sign Museum's annual fundraising auction begins online at midnight on April Fool's Day. No foolin'.
For the last seven years, the museum's major fundraising event of the year has been a Silent Auction, held at its booth at the International Sign Association's SIGN EXPO. Consequently, the bidding was limited to attendees at the show, who had a mere two-and-a-half days in which to bid.
By going online, the entire sign and imaging industry can now participate. Here's a chance for sign and imaging companies to buy products and services, equipment and materials, they use everyday. Items such as:
* Business, estimating and design software
* Printers and cutters/plotters
* Adhesives and tapes
* Vinyl and printing media
* Banners and banner components
* Digital printing services
* Neon equipment, materials and components
* LED and lighting products/systems
* Paints, coatings and laminates
* Sign components and systems
* Awnings and flexible face materials
* Engineering services
* Plastic and other sheet materials
And for the product manufacturers and distributors, there are full-page ads in the industry trade journals and exhibit space at important sign shows. There's something for everyone, whether you're a sign company, product manufacturer, wholesaler or distributor.
All items at discount prices! Plus, you'll have the good feeling of supporting your industry's museum. You'd be a fool not to participate.
Again, the bidding starts at 12 midnight Eastern Standard Time on April 1, 2011 and continues for 30 days and nights, ending on Saturday, April 30 at 3:00 pm Pacific Standard Time. Those attending the ISA SIGN EXPO show in Las Vegas, can get in their last-minute bids on-site at the museum's booth (#3317).
But don't wait for the show. Click HERE and let the bidding begin!