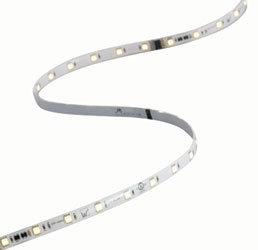 Integrating high performance and innovation in a professional grade, low-profile LED flexible lighting system,
WAC Lighting
introduces
INVISILED® Pro
. The dimmable, energy-efficient LED tape installs easily to illuminate fine wood cabinets, granite counter tops, and crown moldings. INVISILED® Pro delivers 200 lumens-per-foot output for any hard-to-light space.
Crafted within WAC Lighting's zero-landfill manufacturing campus, INVISILED® Pro ensures consistent illumination and color control, a potential life of 50,000 hours, and is backed by a five-year warranty.
With optimal task lighting for any cove or under cabinet application, INVISILED® Pro can be easily used for new construction and retrofit projects. Field-cuttable for custom lengths, the versatile LED system is available in two-inch sections, as well as one-foot and five-foot sections. Linear runs can be installed at a length of up to 40 feet with a 100-watt power supply. The LED tape can be dimmed with an Electronic Low Voltage (ELV) Dimmer.
Less than 1/8th of an inch tall and just 7/16th of an inch wide, INVISILED® Pro is designed with LEDs (light emitting diodes) that are spaced evenly one-inch apart. The self-adhesive tape is designed with 3M™ adhesive backing and crafted in a sealed thermoplastic enclosure for long-lasting durability.