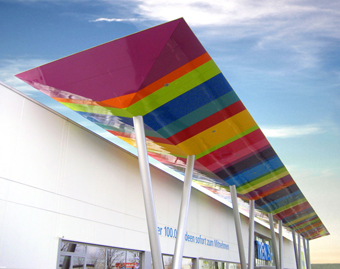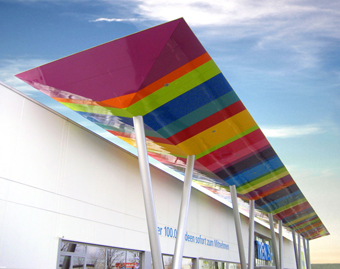 Avery Dennison sponsored the 2011 Society for Environmental Graphic Design (SEGD) Awards Presentation on Thursday, June 2. The Design Awards, held at the SEGD annual conference, recognized the best environmental graphic design projects in the world. This year's contenders range from a dazzling world exposition pavilion to an ingenious urban typography project.
"We were proud to be part of SEGD's industry-leading design competition," said Steve Gary, market segment manager with Avery Dennison Graphics and Reflective Solutions North America. "Avery Dennison's products are used every day around the globe by designers of projects such as the Beijing Olympics, an Audi commercial and Trends (pictured), the German furniture store chain, that transform spaces into completely new environments." (Note: German furniture chain TRENDS wanted a long-lasting, attractive finish for the 800 sqm of aluminum roofing on one of their stores. Avery 900 Supercast film was the solution. Thirteen standard and matched Supercast colors were used, with a ten-year performance guarantee. The film was quicker to apply than paint.)
Avery Dennison films were the canvas for the graphics and signage produced by SEGD for the conference, held in Montréal June 1-4, 2011. The international conference, hosted by SEGD, focused on communication design for the built environment.
Avery Dennison graphic media is a blank slate for possibility—taking the form of art, branding or publicity to create a unique environment, whether it's in a corporate office, retail store or education facility. Designers bring their creative visions to life with Avery Dennison's range of digitally printable, transparent or opaque films, in hundreds of colors, transforming ordinary environments into stunning, award-winning spaces.
Avery® Greenline GP films were transformed by Big Apple Graphics into graphics reflecting the conference's theme of diversity. Greenline GP films are an ideal choice for high-impact graphics with superb printability. The films are available with a gloss or matte finish in addition to a gloss transparent option and can be applied to a wide variety of surfaces to completely transform a space.
and follow @averyinspires on Twitter to find inspiration or share a new idea.
For more information on Avery Graphics products, pricing, or roll sizes, designers and printers can visit www.averygraphics.com to locate a distributor (on the Partner Page) or call 800/282-8379 for additional product information.