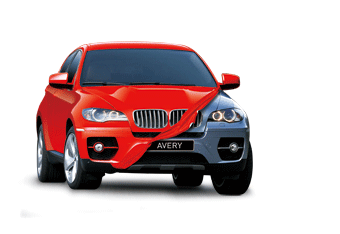 Avery Dennison has officially launched Avery® Supreme Wrapping Film, a new opaque-film product line available in thirty-three colors that provides a finish similar to paint for vehicles and trucks. The Supreme Wrapping product line is available in a variety of finishes and textures, such as gloss, matte and metallic, so that an entire car can take on a new color. The new paint wrap product line will be used in demonstrations by Justin Pate at the Avery Dennison Booth 3057 at the Specialty Graphics Imaging Association (SGIA) Expo October 19-21 in New Orleans.
The thirty-three colors in the product line can be used for wraps, point-of-purchase signage and architectural installations. "The personalization trend has extended into every aspect of our lives," said Kathleen Hall, North American vice president and general manager for Avery Dennison Graphics and Reflective Solutions. "Consumers are choosing to reflect their personal style through many avenues including applying unique colors and graphic designs on their vehicles. It's become extremely popular."
The Avery Supreme Wrapping films come in a wide range of ready-made color and finish options—ranging from orange to red, lime green, matte black, and eight metallic colors (including gold, silver, and bright blue). Customers can wrap an entire car with Avery Supreme Wrapping film instead of using paint, mix and match several colors of film for a full wrap or use one color as an accent in the car's color scheme.
The beauty of a paint wrap is that if an individual gets tired of the wrap or a company rebrands, it can easily be removed and the paint on the car will look virtually the same as the day it was installed.
Avery Supreme Wrapping films are constructed with a cast color layer and a clear layer, so no overlaminate is needed. They feature Easy Apply RS™ technology which allows the installer to easily reposition and slide the film into place and reduce air bubbles, minimizing the total application time for the wrap.
These films are sold in sixty-inch roll sizes providing installers the ability to wrap the hood and sides of the vehicle without seams.
"We like the ease in which it not only applies but also how easy it is to reposition," said Peter Salaverry, CEO of SkinzWraps Inc., in Dallas. "Avery Supreme Wrapping films save me both time and money while providing our customers with a wide range of color options."
Avery Supreme Wrapping Films can be custom color-matched with a minimum order quantity.
They boast a durability of up to twelve years on vertical applications with select colors. Metallic films are durable up to six years.
For more information on Avery Graphics wrap products, pricing, or roll sizes, designers and printers can call 800/282-8379 or visit www.averygraphics.com to locate a distributor (on the Partner Page).