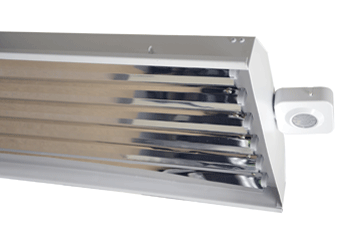 Designed as energy-efficient replacements for HID and fluorescent fixtures used in new and retrofit commercial projects, MaxLite unveils T5 HighBay Lighting Fixtures with pre-installed occupancy sensors.
The leading, global manufacturer and marketer of energy efficient luminaires and lamps' T5 High Bay Fixtures feature a 90 percent enhanced, high-polished reflector for maximum lumen output and photometric efficiency. Delivering high efficiency, the fixtures are designed with a universal voltage ballast that offers a hinged door for convenient access without taking down the fixture or the use of tools. Also available for special order is MaxLite's high efficiency ballast factor universal ballast. Both the fixtures and ballasts have Quick Connects to expedite installation and maintenance.
"With MaxLite's pre-installed motion sensors for T5 Fixtures, end users save energy and cost during installation," said Pat Treadway, product marketing manager for MaxLite. "There is added cost savings from reduced energy consumption in idle warehouse aisles, and with installation, coming out of the box pre-installed, ready to hang."
The fixtures are crafted with 20-gauge galvanized die-formed steel with post-painted white baked-on enamel to guarantee long life, even in harsh environments. Each fixture, which ships fully wired, includes ample slots for the hook and chain, for easy mounting.
High-quality occupancy sensors, which can be prewired to the fixture through knockouts on the ends, help minimize energy consumption when detecting activity within a certain area and switch on lights automatically when someone enters a room. The sensors can be programmed to a variety of settings, allowing for customization to meet the unique application needs of the site. This feature includes variations for time delays to switch the fixtures on and off.
Available in four- and six-lamp configurations, the T5 HighBay Luminaires operate on 120- and 277-volt systems, and each fixture includes a ten-foot long, three-wire cord with plug.
Accessories, such as wire guards, lenses and door frames, are offered with "Easy Lock" catches that enable the fixtures to be opened from either side, reducing the maintenance time by 50 percent and eliminating excess movements of ladders and lifts.
MaxLite offers a five-year warranty on the T5 HighBay Fixtures.
Founded in West Caldwell, New Jersey in 1993 as the U.S. branch of SK industries, a leading South Korean manufacturer of energy efficient lighting products, MaxLite inherited a true tradition of energy efficient lighting manufacturing that dates back to 1955. Since its founding, MaxLite has worked to develop a reputation as a leading global manufacturer and marketer of energy-efficient and environmentally friendly lamps and luminaires. MaxLite offers an extensive line of indoor and outdoor lighting fixtures including LED and fluorescent luminaires. MaxLite established the MaxLED™ brand which includes: Edge Lit Flat Panels, Direct Lit Flat Panels, Dark Sky compliant Wall Packs, Garage and Canopy Luminaires, Nightlights, Exit Signs, Optical Panels, Lightbars, and LED light sources.
For more information about MaxLite, call 800/555-5629 or visit www.maxlite.com.