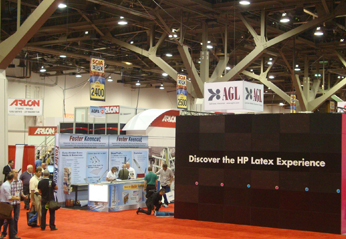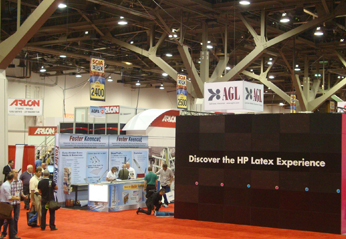 It's that time of the year again—the specialty graphics community is coming together to network, sell, buy, and learn at the 2011 SGIA Expo! And this year it's back in New Orleans.
So why should you bother making the trip to the Big Easy? For one, Sondra Fry Benoudiz, vice president of Membership & Business Development for SGIA, argues that the specialty imaging community is one of the best around. "Have you ever met such a work hard, play hard industry? And the word must be getting out because 30 percent of the pre-registered attendees are first-timers," she says. "Exhibitors do their part by participating in an expansive trade show floor displaying their latest and greatest to make imagers more productive and profitable. SGIA does its part by organizing the best marketplace to meet face-to-face with the attendees."
In addition to an expansive tradeshow floor, SGIA provides more than 20 educational sessions, sales-free Zones, social events, and much more.
Convinced? Good, because free Expo passes are still available here until October 17.
Stepping out onto the show floor without a plan can be a dizzying experience (or maybe that's just the leftover feeling from the hand grenade drinks of the night before?). You may be asking where do I start? What's new at the show? What do I want to be sure not to miss?
That's why we're here. We've put together a scavenger hunt list of the latest and greatest events and exhibits on the show floor:
1. Zoning Permits. Six sales-free Zones will be on the show floor at SGIA. These Zones exist for you to get exposure to different areas of the industry. While touring them, be sure to stop by the newest one: the Narrow Format Zone. In this Zone, you can learn about the newest in narrow-format imaging capabilities, technologies, consumables, process management, and finishing systems. Learn how products like OEM Markings, labels, and small POP components are made and see if this niche is a fit for your shop
2. A Thinking Cap. With over 20 educational sessions, there's no reason you can't find something that will peak your interest and expand your knowledge. From garment decoration to sales management to graphics to digital signage and much more, SGIA has made sure to cover all of the educational bases.
3. Your Wheaties and Then Some. Breakfast is the most important meal of the day, but what about when it's combined with a Keynote Speaker? Then it's the most important breakfast of the Expo, and one you don't want to miss! On Thursday, Otober 20, be sure to grab a seat by 8:30 am in Room 243 of the Convention Center because speaker Gene Marks will be discussing how your small business can profit in today's economical and political climate.
4. An Armful of Awards. Get up close and personal with the Expo's award winners when you visit the Product of the Year, Golden Image, and ASPT Tom Frecska Student Competition Galleries. The Product of the Year honors the latest equipment and supplies currently on the market that are advancing the specialty imaging industry. Golden Image awards the best specialty imaging creations. And the Tom Frecska Competition showcases the best work by graphic arts students. If you'd like to see your own work take home a Product of the Year or Golden Image award, be sure to enter soon. The deadline is this Friday, October 7.
5. SBI Magazine. Once you've explored the hundreds of exhibitor booths at the SGIA show, be sure to stop by Sign Builder's booth #1923. We'll have free copies of our October issue and our 2011 Summer/Fall Buyer's Guide!
The fun doesn't stop when you leave the Expo floor. Need some ideas on how to take in all that New Orleans has to offer? Check out Sondra's Top 10 Must-Do's in the Big Easy and feel free to add in your own must-see's!