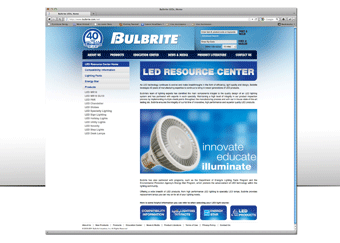 As LED technology continues to evolve and make breakthroughs in energy efficiency, light quality and design, Bulbrite launches an online LED Resource Center at www.bulbrite.com/LED that provides vital information to help lighting professionals select the right LED light source for their needs. Bulbrite, a leading manufacturer and supplier of innovative, energy-efficient light source solutions and the premier educational resource for lamping technology, has leveraged its forty years of manufacturing expertise to offer the latest generations of LED products.
Staying true to their beliefs of "Innovation, Education and Illumination," Bulbrite's team of lighting experts has identified key elements integral to the quality and design of an LED.
Bulbrite partnered with the Department of Energy's Lighting Facts Program and the Environmental Protection Agency's Energy Star Program to promote the advancement of LED technology within the lighting community. Working with these programs and using their extensive research, development and manufacturing expertise, Bulbrite's LED Resource Center is divided into four sections: Compatibility Information; Lighting Facts; Energy Star; and LED Products.
Compatibility Information addresses the considerations that are taken when pairing LED retrofit lamps with existing dimmer control and track lighting systems. A transformer compatibility guide shows how low voltage LED MR16 lamps can be used with the industry's popular track systems. A dimmer compatibility guide illustrates how dimmable LED products can be used with popular dimmers for optimal performance.
As an LED Product Partner of the Department of Energy's Lighting Facts Program, Bulbrite offers a Lighting Facts section featuring products with specifications that are DOE-approved using IES (Illuminating Engineering Society) LM-79 test reports. The data featured on each LED product's label includes: Light Output in Lumens; Watts; Lumens Per Watt or Efficacy; Color Accuracy using the Color Rendering Index (CRI); Light Color using the Correlated Color Temperature (CCT); Registration Number; Model Number; and Lamp Type.
The Resource Center's Energy Star section features information on Bulbrite's Energy Star-certified products. Energy Star, a joint program led by the U.S. Environmental Protection Agency and the U.S. Department of Energy, ensures high performance LED products for new construction, renovations and energy efficient, do-it-yourself upgrades. These products use 75 percent less energy and last 25 times longer than traditional incandescent lighting while providing optimal light quality.
The LED Product section features Bulbrite's full line of LED products that can be used for a variety of applications. Their extensive LED line includes: MR16 and MR16 GU10 styles; PARs; Chandelier Lamps; Globes; Specialty Lamps; a Sign Bulb; Holiday Lights; Utility Lights; Novelty Lamps; Step Lights; and Desk Lamps.
Bulbrite ensures the integrity of their complete line of high performance LED products with their extensive LED inspection process that takes place throughout the manufacturing process as well as an in-house, state-of-the-art testing lab located at their headquarters.
For more information on the new LED Resource Center, click on http://www.bulbrite.com/LED.