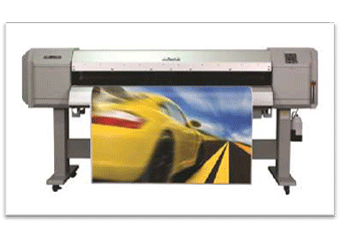 Mutoh America, Inc., a leading manufacturer of wide format printers, will launch the new ValueJet 1638-64" high production Eco-solvent printer at the SGIA tradeshow. The 1638 is Mutoh's fastest printer with print speeds up to an incredible 545 square feet per hour.
The new addition to the Mutoh ValueJet family will replace the previous ValueJet 1618-64" printer. The 1638 includes a staggered dual-head print technology that allows users to print jobs that typically call for the production capacity of two or more printers.
The 1638 prints durable graphics on coated and uncoated roll-to-roll substrates. Mutoh's SpectroVue VM-10 spectrophotometer can be equipped to utilize the on-board and Internet based ColorVerify process control systems, including an on-printer ICC profile creation.
Standard on all ValueJets, the 1638 includes Mutoh's i2: Intelligent Interweave print technique, that lays down the four color (CMYK) Eco-solvent inks in a wave pattern, virtually eliminating banding. Mutoh will be showcasing the new ValueJet 1638 among the rest of the ValueJet line in booth number 2133.