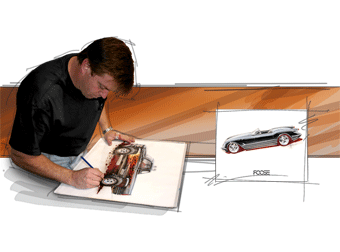 At this year's SEMA show, 3M is bringing its history of innovation and technology to life—in a live presentation by one of the world's top car designers.
Join industry legend Chip Foose at the 3M SEMA Booth No. 12025 on Tuesday, November 1, from 11 a.m. PST to 12:30 p.m. PST as he puts pen to paper and illustrates Automotive History in a unique and engaging presentation.
Owner and chief designer of Foose Design and star of TLC's Overhaulin, Foose is the spokesperson for 3M Latin America Automotive Aftermarket Division and will take the stage creating a one-of-a-kind illustration live. Chip Foose's creative visual presentation will illustrate how 3M Automotive evolved from providing sandpaper and tape in the early days of the automotive industry, to the advanced technology and engineering solutions it delivers for vehicles around the world today. Encompassing three large panels, and measuring over twenty feet long, Foose will talk and draw his way through a 3M Automotive chronological timeline.
"I am excited to be a part of 3M Automotive and look forward to illustrating 3M's history in the automotive industry, sharing how their innovation and technology touches just about every aspect of the vehicles we build, repair, restore and drive every day," he said. "I promise it will be fun, unique and you just might learn something new. See you there!"
Follow 3M's activity from the SEMA Show at http://www.3M.com/SEMA2011or on Facebook at www.Facebook.com/3Mcollision.
For more information about 3M visit http://www.3MGraphics.com or http://www.3MCollision.com.
For more information on Chip Foose, visit http://www.facebook.com/chipfoose and http://www.chipfoose.com/ws_display.asp?filter=Home.