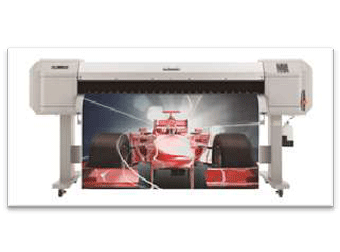 Mutoh America Inc. will exhibit new additions to the ValueJet printer line at this year's SEMA trade show in Las Vegas, booth #12467. Mutoh will run daily print demonstrations on the new ValueJet 1204GA, 1324 and 1624 printers.
Car wrap installation demonstrations will also take place daily at 11:00 a.m. and 2:00 p.m. by
Premier Wraps using Arlon's DPF 6000XRP print media.
The 48-inch ValueJet 1204GA prints on Mutoh's own pre-grommeted and pre-welded Ready2Print banner material. The 1204GA is the first of its kind in the industry and eliminates the need for costly grommet presses and next-day jobs. Used with Mutoh Ready2Print material or a variety of other roll-to-roll substrates, the 1204GA is perfect for banners, wraps, and decals. The 1204GA retails at only $11,995!
The ValueJet 1324 and ValueJet 1624 are Mutoh's new 54- and 64-inch Eco-solvent printers. With print speeds up to 313 square feet per hour (VJ1624), each printer is manufactured with Mutoh's i2: Intelligent Interweave print technique that lays down ink in a wave pattern, eliminating banding. Retailing at $18,495 and $22,995, the 1324 and 1624 are the "Wrapper's Choice" for speed, size and quality.
Mutoh will also be showcasing the Kona 1400 cutting plotter and a Seal laminator.
For more information on Mutoh and its products, visit www.mutoh.com.