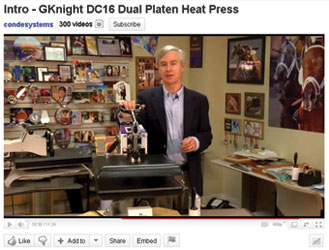 Condé Systems
has introduced the DyeTrans 7890 and 9890 inkjet sublimation printers. The DyeTrans 7890 (24-inch wide media output) and the DyeTrans 9890 (44-inch wide media output) are both supported by Wasatch SoftRIP technology and produce higher quality prints at nearly twice the speed of previous generation printers (up to 50 sq. ft./hour for hard substrates and 300 sq. ft./hour for soft substrates).
Available in a choice of SubliM 8-color or Dual CMYK ink configurations, these state-of-the-art inkjet systems utilize refillable extended capacity ink cartridges and economical liter ink bottles. For consistent quality and runability, paper choices include TexPrint and DyeTrans.
With over sixteen years of experience in the wide-format sublimation transfer industry, Condé is the foremost authority on workflow integration, installation, color management, training, service, and technical support and provides optional on-site installation, training, and color profiling.