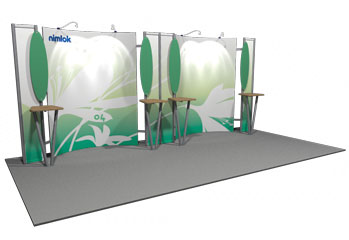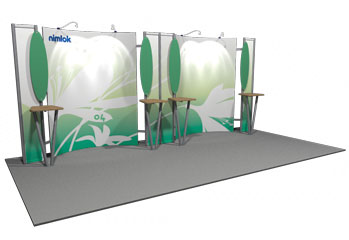 Nimlok
has developed a series of new and innovative products to be unveiled at Exhibitor2011, taking place in Las Vegas this coming March 27-30. Adding to Nimlok's new "fast solutions" portable modular exhibit offerings, Pulse, SmartWall and Velocity Lite bring a light, state-of-the-art dimensionality to expand Nimlok's already extensive product line of sophisticated and design-centric exhibit solutions.
To celebrate these introductions and Nimlok's 40+ year history, a fun and robust promotional campaign for Exhibitor2011 will embrace the versatility of these products and engage attendees by inviting them to explore how they can get the most on their Return on Imagination (ROI).
In addition to boasting the new and expanded Pulse, SmartWall and Velocity Lite product lines, the booth design will showcase a whimsical, easy breezy theme, full of possibilities. Pinwheels will be present in the 20-foot-by-20-foot booth and given to attendees symbolizing the opportunity for Nimlok to build on customers most imaginative ideas and bring these to life, no matter which way the wind carries them.

Select attendees will be welcomed with Nimlok pinwheels in their hotel rooms and given a chance to enter into a drawing to win an Apple iPad when they bring their pinwheel to the booth on-site during Exhibitor2011. Additionally, for every pinwheel dropped off, Nimlok will make a donation on behalf of its customers to Edutopia, a foundation dedicated to arming the educational community with innovation tools to empower the field and bring new possibilities to the future of our children. Customers that do not attend Exhibitor2011 will have the opportunity to view and source the new products both in print and online via the new "fast solutions" catalog, which offers clients instant access to Nimlok's comprehensive product line of exhibit solutions.