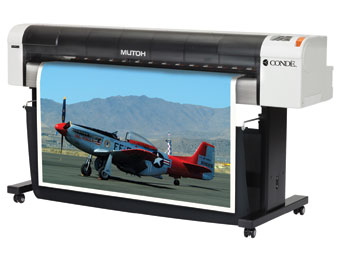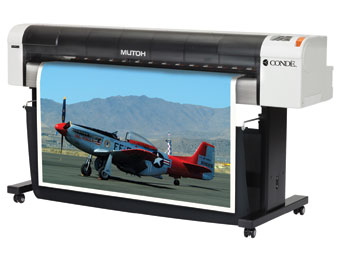 Condé Systems has introduced the DyeTrans RJ-900X, a professional inkjet sublimation printer that offers 44-inch wide output, incredibly fast print speeds, four-color (CMYK) ink delivery system, optional media take-up reel, and outstanding reliability. Ideal textile applications include indoor and outdoor banners, all-over T-shirts, custom decorated bulk fabrics, team sports apparel, towels, tote bags, floor mats, and more. With its dedicated Wasatch SoftRIP and Condé's renowned color management solutions, the DyeTrans RJ-900X is capable of producing incredibly vibrant prints in three print modes (280 sf/hr in 360×360 mode, 168 sf/hr in 360×720 mode, and 123 sf/hr in 720×720 mode) and offers USB and Ethernet 100BASE-TX/10BASE-T connectivity.
Condé DyeTrans cartridges can be easily refilled with economical liter ink bottles—providing a significant ink cost savings over sealed, non-refillable cartridges. Available SubliM inks insure consistent quality and runability and paper choices include Jetcol, TexPrint, and DyeTrans. With over eighteen years of experience in the wide format sublimation transfer industry, Condé is the foremost authority on workflow integration, installation, color management, training, service, and technical support and provides optional on-site installation, training, and color profiling. Visit www.conde.com for additional information and pricing.
Condé Systems is the recognized leader in the digital transfer market and offers everything needed to get into the personalized photo gift business including transfer systems, production software, blank imprintables, transfer paper and supplies, and instructional videos. Screen printers, sign makers, embroiderers, pad printers, engravers, photographers, and artists can expand their current product offerings by providing their customers full-color, photographic quality gifts and awards. During all stages of product selection, sales, and post sales, Condé offers expert knowledge and superior customer support. Condé and DyeTrans are trademarks of Condé Systems, Inc. Other brands and product names are trademarks or registered trademarks of their respective holders.