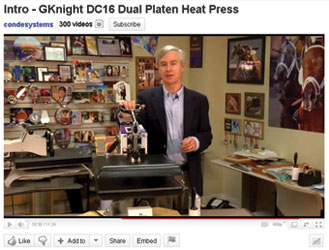 Condé Systems
is now offering Geo Knight® Heat Presses with top and bottom heat platens. Dual heat platen presses increase productivity by reducing the time needed to image some hard substrates such as ceramic tiles and by producing double-sided substrates in a single pressing – halving the production time of double-sided products such as car flags, bag tags, holiday ornaments, and lanyard badges.
Because each platen utilizes fully independent digital control boxes and Geo Knight® SuperCoil-Microwinding™ heater technology, the presses can be easily adjusted to also provide traditional top-only heat or bottom-only heat when needed. The new dual heat platen presses are available in 16-inch-by-20-inch and 20-inch-by-25-inch manual swing-away, air-operated swing-away, and air-operated twin shuttle models and are packed with the same great features as their Geo Knight single platen counterparts. In addition, an add-on bottom heat platen pedestal is available for existing Geo Knight DC16, DC16AP, DK9, and DK8T presses.
View a video on this product at www.youtube.com/watch?v=-8VqQ2jHTU4.