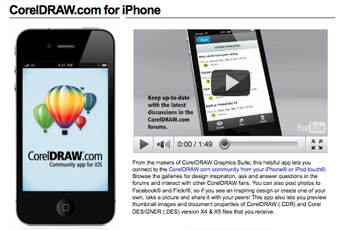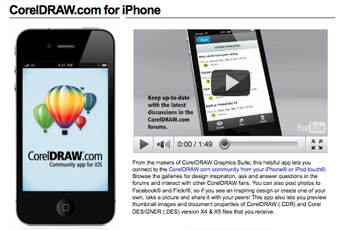 Corel is very happy to announce that the new CorelDRAW.com iPhone app is now available as a free download from the App Store.
The new iOS app allows users to connect to the CorelDRAW.com community from their iPhone or iPod touch and is also compatible with the iPad. Browse the galleries for design inspiration, ask and answer questions in the forums and interact with other CorelDRAW fans.
Our community can post photos to Facebook and Flickr, so if they see an inspiring design or created one of their own, they can take a picture and share it with their peers! Finally, users can preview thumbnail images and document properties of any CorelDRAW (.CDR) and Corel DESIGNER (.DES) files received in email attachments.
To find out more about the CorelDRAW.com app and watch the video overview visit http://CorelDRAW.com/iPhone.