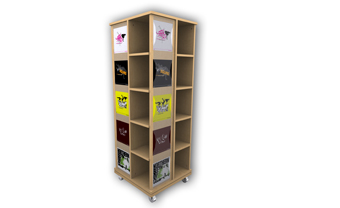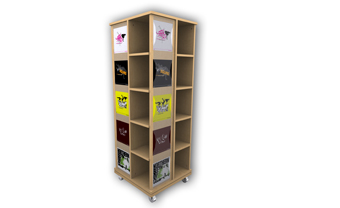 Walls + Forms, Inc., now offers "T" shirt cube displayers. Originally designed for "conversational print & embroidery" items such as shirts, caps, and bags", they are an effective fixture to merchandise a variety of products, such as mugs, golf balls, school supplies and much more.
Walls + Forms "T" shirt cube displayers are available in two basic models—The T16 and T20. Compartments have a shelf, which can be removed to increase merchandising space. Each cube displayer features four graphic sleeves that can display up to sixteen (T16) or twenty (T20) different graphics, imprints, slogans, or logos. Basic colors are white, grey, almond and maple; additional colors are available up on request (minimums may be required).
"T" Shirt cube displayers can be purchased with three base options: fixed base, rotating base, or rolling base.
The T16 model is available in a standard 24-by-49-by-24-inch size, while the T20 model is available in a choice of a standard 24-by-53-1/2-by-24 or 24-by-58-5/8-by-24-inch size.
These easy to assemble competitively priced t-shirt displayers are available either pre-assembled or ready-to-assemble (RTA) and can be packaged and shipped via UPS/Fedex.
For more information, call the Walls + Forms sales team at 972-745-0800 or visit www.wallsforms.com/tshirt_cube.