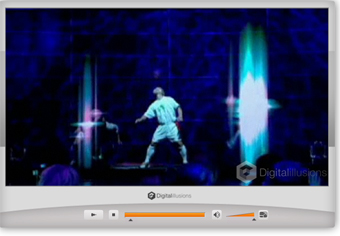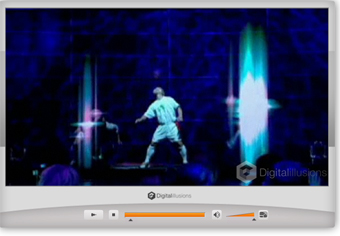 Digital Illusions, the world's leading provider of holographic content, has been awarded the 2010 Musion Reseller of the Year award worldwide—the third consecutive year to receive the honor.
Selling and producing more large format holographic shows than all other U.S. resellers combined, Digital Illusions has become the company that clients trust.
"We are very thankful to all of our clients as they have actually won this award," says Digital Illusions Creative Director and Owner Ann DeVilbiss. "Digital Illusions has always worked to make our clients the stars and they have been, over and over."
This year alone, DI has produced projects for tradeshows, major corporate events, museums, and even opened the first holographic nightclub. "Digital Illusions is a boutique company. This means that when you talk about content you are doing so with the person who is actually creating it or will be helping your team produce it," says DeVilbiss. "When you talk about the technical side, that person not only works through the design process with you and your team, providing CAD drawings, but also is on location working on the project. Everyone who works at Digital Illusions is also a technician who does installations. We believe you can't honestly talk to a client about something unless you yourself have done it."
Doing more productions than anyone else means that the Digital Illusions technicians are the most experienced in the U.S. by far. DI is the only reseller to come from the content end of the production. They understand that the content is the most important part of the illusion and they always work to make it the best it can be, testing and refining every step of the way. Producing more content for this illusion than anyone else in the world allowed them to learn the tricks and challenges of making the hologram the best it can be. They will be happy to do it for you or help your team produce the content themselves.
"We are also the only reseller who doesn't have any other interests in your project. In today's competitive environment, everyone is concerned about other companies going after their clients at some point," says DeVilbiss. "Digital Illusions is only in the business of illusions and content. We are not interested in getting your AV or event production business. We work with everyone without any concern of competition, with your satisfied end clients returning through you for future holographic production."
If you are interested in the technology or have a project you would like to discuss, please call Ann DeVilbiss at Digital Illusions at 866/660-3444, ext. 1.
For more information about the company, visit www.digitalillusionsllc.com.