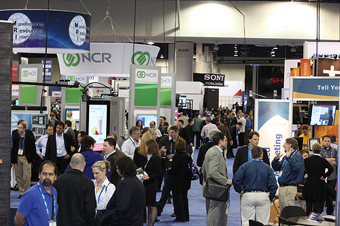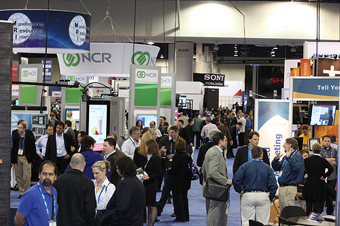 Digital signage has become one of the fastest growing niches in our industry, and Digital Signage Expo (DSE) will be held from March 6-9 at the Las Vegas Convention Center. Whether you're already involved or thinking about becoming involved with digital signage, the show is one of the best events to learn about this technology. And potential clients from verticals as varied as restaurants, hotels, colleges, transportation facilities, and more, will all be present.
A full day of pre-conference programs and events will occur March 6, and then the Exhibit Hall and Conference will be open from March 7-8. Attendees can take a walk around the show floor to see the latest technology and innovations in digital signage, sign up for one of the many educational seminars, and sit in on one of the two Keynote Breakfast Panels. At the end of the day on March 7, attendees can also participate in a Networking Reception and take in the DSE 2012 Awards Dinner after that.
After the Exhibit closes, attendees are invited to stick around for a post-conference Digital Signage Network Expert Program on March 9, which is designed to help those in the industry understand the complexities of digital signage networks.
This show is packed to the pixels, so Sign Builder Illustrated talked with Chris Gibbs, President of Exponation, LLC, which produces DSE. We found out more about the show and what is must-see for first-time attendees.
View our Q&A below to find out why DSE may be the perfect place for your shop to start (or continue!) on the road to digital signage.
SBI: How informed should sign shops be about digital signage?
Chris Gibbs: Static sign shops have the opportunity to expand their businesses and grow their revenue not only by adding digital signage to the services they offer existing customers, but also as a way to attract new customers.
SBI: What can attendees expect to see in the exhibit hall?
CG: Digital Signage Expo annually presents the world's largest industry tradeshow featuring over 160 exhibitors. It is the only place to see all the newest innovative and leading-edge technologies under one roof including transparent LCD technology, interactive multi-touch and gestural technology, mobile/smart phone integration, and the latest in content development.
SBI: For first-time attendees, the number of events, forums, booths, and educational sessions can be overwhelming. What should they focus on seeing? What is a recommended schedule that a first-timer can follow?
CG: In addition to taking advantage of the opportunity to speak with the great variety of industry professionals represented on the tradeshow floor, Digital Signage Expo 2012 offers five educational opportunities for first-time attendees:
Tuesday, 3/6, 9:00am-12:00pm – Digital Signage in Transportation
This half-day seminar program is designed for the transportation sector, but importantly, includes a case study presentation by Laurie Sigillito, owner of FastSigns in Durango. Ms. Sigillito will discuss how her small static sign franchise business competed successfully against a global media company and won a five-year regional airport advertising contract that infused an entirely new revenue stream into her business. For more information on this half-day seminar, click here.
DSE's "Digital Signage Fundamentals" Seminar Program consists of four hour-long seminars designed specifically to provide the basic information those new to the business need to know in order to get started. These include:
Wednesday, 3/7
9:00-10:00am – Introduction to Digital Signage: A Roadmap for Success
3:00-4:00pm – Emerging Digital Media Trends
Thursday, 3/8
9:00-10:00am – Key Considerations for Successful Digital Signage Project Execution
3:00-4:00pm – Everything You Need to Know About Making Digital Signage Content
For more information on the Fundamentals Track, click here.
SBI: How big is this year's show?
CG: The exhibit hall is the largest ever at over 61,000 net square feet.
To register for DSE or to learn more about the show, visit www.digitalsignageexpo.net. And for year-round news and information on digital signage, visit DSE's new Digital Signage Connection Web portal at www.digitalsignageconnection.com.
All photos courtesy of Exponation.