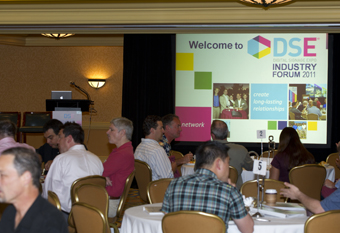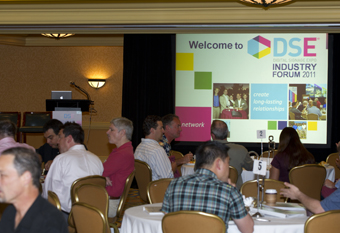 Digital Signage Expo (DSE), the world's largest International Tradeshow and Conference dedicated to digital signage, interactive technology and digital out-of-home networks (DOOH), held its second Industry Forum last month in St. Petersburg, Florida. The event once again proved so popular with both end-users and vendors that the Fall Forum has now been planned for September 18-21.
DSE's Industry Forums bring together top-of-the-line vendors and end-users, the latter of whom confirm ahead of time that they are planning a significant investment in digital signage technologies within twelve to eighteen months. End-users who have attended claim their participation has minimized the standard four to twelve months in planning, analysis, research, and due diligence and allowed them to fully vet their respective project challenges, in most cases, coming away with a variety of potential solutions and plans to enhance their projects with the latest technologies.
The three-day invitation-only event requires no out-of-pocket cost for end-users with qualified projects. It includes educational workshops, motivational industry keynotes, networking opportunities, one-on-one sponsor/attendee meetings, and relaxed social gatherings to build rapport and establish relationships.
The exit survey of attendees, to which 63 percent responded, confirmed that every one of the end-user guests planned to do business with one or more of the sponsoring vendors (57 percent of them within a three- to twelve-month period).
Sponsoring vendors said:
"Great boutique format that creates an atmosphere for vendors and customers to engage in meaningful discussions." – Brian McClimans, Managing Director of Business Development, Peerless Industries, Inc., Industry Forum Title Sponsor
"The DSE Forum provides a setting in which you are able to quickly assess whether there is interest and a match with your products and services with key businesses in many market segments. I believe the structure is highly efficient and educational." – Steve Lovell, Sr. Director, Advertising & Video Networks, PlayNetwork, Inc., Industry Forum Title Sponsor
"Overall it was a very good event. The networking aspect was excellent and the level of interaction was very good." – Sean James, Vice President, Managed Services, CHRISTIE
"Great event and opportunity to share ideas, learn from customers, and show how we can help solve their challenges. The one-on-one interaction lends to new and exciting solutions for the industry." – Richard Ventura, Director of Sales – Vertical Solutions, NEC Display Solutions
"I think it was well planned and well executed. There was ample opportunity to network and build new relationships well beyond the face-to-face meetings." – Ken Goldberg, CEO, Real Digital Media
Because it costs nothing to apply and nothing to attend, end-users who are planning such an investment in digital signage technologies are encouraged to submit an application that briefly describes their project. Invitations are issued only to those who qualify and are limited to up to thirty-two end-user guest companies. Those who are interested in being considered for inclusion can go to the DSE website and download the guest form at: http://www.digitalsignageexpo.net/IndustryForums/Fall2011.aspx
Guests who have already submitted and been confirmed to attend include: Academy Sports & Outdoors, JetBlue Airways, HP Pavilion at San Jose, LAZ Parking, and Seaworld Parks & Entertainment.
The event also is limited to only sixteen sponsoring vendors. Among those who have already signed up to support the program are: Christie Digital, Chief Manufacturing, NEC, Peerless Industries, PRN, Saddle Ranch Productions, Samsung and Wireless Ronin.
If on behalf of your company you are interested in sponsoring the fall forum or participating as a hosted end-user guest, please contact Geri Wolff at [email protected].