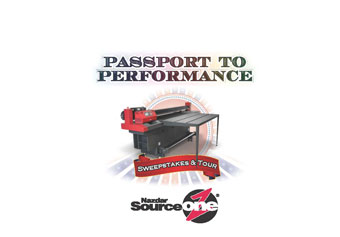 Nazdar SourceOne®
announces the second stop of the "Passport to Performance" educational tour and sweepstakes will be June 22, 2011 at Nazdar SourceOne's Ohio branch located in Fairfield, Ohio. SourceOne invites everyone to come learn about the profitable business opportunities that digital printing technology offers.
Attendees will learn how they can grow their business with a customized Digital Printing Needs & ROI Analysis. Representatives from EFI Rastek®, Roland®, Geneva Capital® and G-Floor® will also be on hand to answer your product and financing questions. In addition, the sweepstakes grand prize Rastek H652 and Roland's newest printer, the LEJ-640, will also be available for viewing.
All visitors will be entered in a special tour prize drawing for a digital Flip® Cam. Attendees will receive a bonus entry in the Grand Prize Sweepstakes drawing for the Rastek H652 Hybrid UV printer valued at $114,995.
Everyone interested in attending the June 22 event in Fairfield is encouraged to make their reservation by calling the Nazdar SourceOne Business Development team at 800/677-4657 x2112 or to sign up online at www.sourceoneonline.com/OpenHouse/Cincinnati.aspx.
The "Passport to Performance" educational sweepstakes and tour started in Las Vegas at the ISA Expo and continues through Fairfield, Ohio before moving on to other locations. Full details of the Passport to Performance Sweepstakes and all the events being offered, can be seen online at www.sourceoneonline.com/RastekSweepstakes/Events.aspx.