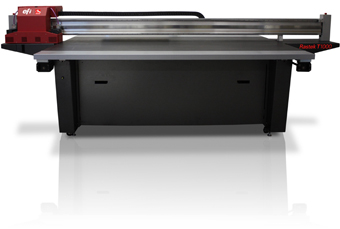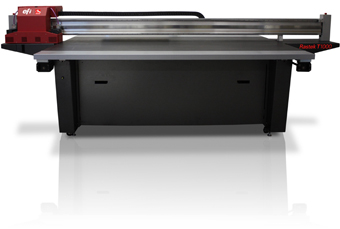 In the recently announced Angel Awards, once again EFI has been represented, this time with an accolade for its Rastek T1000 true flatbed wide format printer. With its established range of VUTEk products now used universally by display producers and sign-makers worldwide, the company's entry-level and mid-range Rastek machines bring to the market a reliable family of platforms suitable for photographic quality display and highly accurate industrial applications. Each year the Angel Awards recognize the top ten of the most innovative introductions made in the wide format arena. In 2009 EFI's VUTEK GS5000r and PrintSmith Sign were victorious, and on this occasion it was Rastek's turn to take the honors for EFI.
Launched in October 2010, the EFI Rastek T1000 provides users with high quality output options using CMYK + white, with its specially formulated inks designed to provide maximum adhesion on rigid and flexible materials. The machine can print direct to a broad range of substrates, including acrylics, aluminum composites, cards and corrugated, glass, wood, and styrene, as well as flexible materials such as paper, self-adhesive PVC and polyester based films.
This printer features a static, three-zoned vacuum table with a sturdy, moving gantry for ultimate stability across its 1.32-by-2.5 m bed. Able to handle materials up to 181.44 kg in weight, even difficult substrates can be held down consistently to avoid ink scuffing often found on irregular surfaces where there is insufficient vacuum power.
Ease of set up and high levels of accuracy and versatility were among the reasons the Rastek T1000 gained an Angel Award. In the highly competitive area for entry-level UV-curable flatbed printers, this machine also scored for the strength of its zoned vacuum areas, making it simple to work with single and multiple smaller sheets efficiently. Its two shuttered mercury arc UV lamps feature variable power settings for efficient curing of all surfaces and materials.
"Having thoroughly inspected both the build quality and the high standards of output from the EFI Rastek T1000 when it was launched at FESPA Munich, I had no hesitation in recommending this sturdy yet modestly priced printer for an Angel Award," comments Sophie Matthews-Paul, independent analyst and technology consultant at Image Reports. "It has enormous potential for display and industrial ink-jet production for businesses of all sizes who need the versatility offered by a UV-curable true flatbed unit."
The Rastek T1000 has a maximum throughput speed of 44.5 square m/hour, with a choice of print modes for optimum productivity. At 600-by-300 and 600-by-600 dpi, the machine uses four levels of greyscale whilst, at 1200-by-900 dpi, it operates in binary mode for most efficient and high-quality reproduction. The incorporation of white ink means that jobs can be over-printed, under-printed or have spot color applied without compromising the overall throughput speed.
Paul Cripps, managing director of EFI EMEA, states: "Winning the Angel Award this year is demonstrative of how the demand for high quality true flatbed printers is now seeing the move from solvent-based platforms to UV-curable solutions becoming increasingly important for all businesses. This includes those with lower investment budgets or who want a supplementary machine for producing specialist applications."
"The EFI Rastek T1000 combines tough build quality and reliability with high standards of production, and we are forecasting continued growth for this machine in both the display and industrial printing markets," continues Cripps. "Our Rastek machines are the perfect complement to the EFI VUTEk range of wide format solutions, sharing the power of our EFI Fiery XF multi-platform RIP and advanced ICC color management and profiling for precise and accurate results."
For more information, visit www.efi.com.