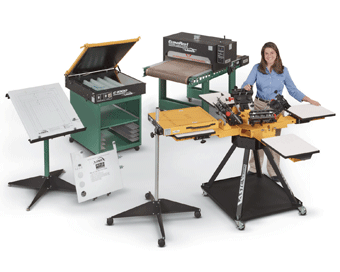 As announced by Vastex International President Mark Vasilantone, his company has introduced a complete Entry Level Screen Printing Shop with screen registration system, exposing unit, utility cart, screen printing press, flash-cure unit and infrared dryer.
"Components of the system are performance-matched to maximize payback for the entry-level printer, while allowing expandability when volume increases," says Vasilantone.
The VRS Screen Registration System included allows personnel to expose positives onto screens in precise register off press and press operators to insert those screens ready for printing in precise register in only ten minutes, dramatically increasing press uptime and profit.
Screens up to 21-by-24 inches (533-by-610 mm) are exposed on an E-1000 Entry Level Exposing Unit with vacuum hold-down, timer, black UV lights, and UC-1000 mobile utility cart with four-screen capacity.
The heart of the system is a four-station/four-color V-1000 Entry Level Manual Garment Printer with a unique floating print head, said to register as accurately as the most costly, high-output machines on the market.
To partially cure (flash) an individual color in several seconds before printing the next color, an F-Flash Entry Level Flash Cure Unit with 1750W high-density infrared heater is included.
An Econo-Red I Compact Infrared Dryer with 3,500 watts of digitally-controlled heat finishes the job by drying up to 150 garments per hour.
Entry-level shop packages ranging from $2,000 to $10,000 are offered by the company, as well as stand-alone entry-level machines and a full line of professional-grade screen printing equipment.
For information, call Vastex International, Inc., at 800/482-7839 or visit www.vastex.com.