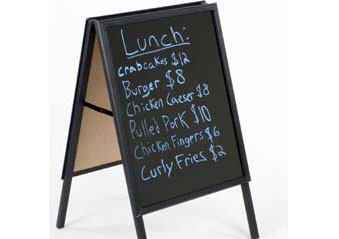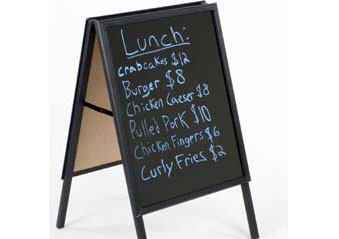 AframeSigns2Go
, a DisplayShops company focused on easel and A-frame sign displays, has just launched a new, versatile erasable board. This board features a black background and can be used with either wet or dry-erase markers. This sign is ideal for menus and specials for restaurants, but can be used in any setting.
"These new menu boards can be used either inside or outside restaurants and cafes to display menus, daily specials, or price details," said Sandra Reno, inventory specialist for Food-Displays. "This wet/dry erase board lets owners be creative. They can use as many colors as they like and can have custom artwork and pictures drawn on to compliment their business."
This menu board is available in three different framing colors of black aluminum, silver aluminum, or real North American red oak. The overall dimensions measure 24 inches-by-42 inches with a writable area of 21 1/4 inches-by-33 3/4 inches. These menu displays are coated to wipe off and clean easily for convenience.
"The different colored frames make these menu displays very versatile," said Reno. "The black frame is great for upscale restaurants but can easily be used in more casual cafes and sandwich shops. Because these frames don't use a pre printed image, these signs are completely customizable."