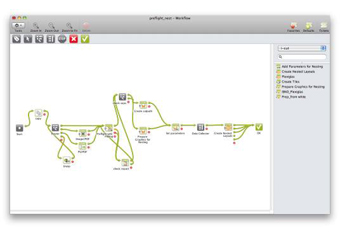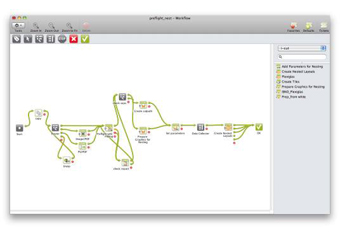 EskoArtwork
announces i-cut Automate, built on Esko's highly successful Automation Engine, the latest addition to i-cut Suite. i-cut Automate ties the pieces of the i-cut Suite together and automates the entire production process, from design to print to cut. Users can build dynamic workflows that will automate repetitive prepress tasks, thereby enhancing productivity, reducing operator intervention and errors, and saving valuable time, money, and materials in the production process.
"Sign and display graphics producers are constantly looking for ways to run more efficiently so that they can meet their customers' needs," explains Isabelle Noppe, EskoArtwork Product Manager i-cut Suite. "Automating their prepress workflow with i-cut Automate will enable them to handle greater volumes of work more economically, and to shorten their cycle times. In turn, this will lead to greater profitability."
Major addition to an advanced suite of tools
i-cut Automate is an addition to the i-cut Suite, part of the EskoArtwork Suite 10 – a set of integrated software tools for the packaging, printing, and sign & display industry. i-cut Suite also includes i-cut Preflight, i-cut Layout, and i-cut Vision Pro – tools.
i-cut Preflight handles efficient preflighting and editing of incoming PDF files, ensuring that jobs will RIP and print correctly.
i-cut Layout is a module for interactively building and editing sheet layouts, ensuring that jobs are set up to make the optimum use of the substrate through intelligent true shape nesting and tiling. It also enables file preparation for printing, through adding grommet marks, and creating cut paths and bleeds.
With i-cut Automate, all of these functions are now possible in a single automated workflow, with less operator intervention required and fewer potential manual errors. Through Mac- or PC-based clients, operators can easily monitor the workflow and interact when necessary through a comprehensive checkpoint.
Repetitive tasks can be made far less time-consuming through setting up dynamic workflows that are easy to operate in a client-server environment. i-cut Automate can also be integrated with Management Information Systems, enabling automatic job creation and the submission of job parameters to the workflow via XML data.
As a scalable solution, the pricing of i-cut Automate depends upon the number of clients who will interact with the system, and on the required productivity.