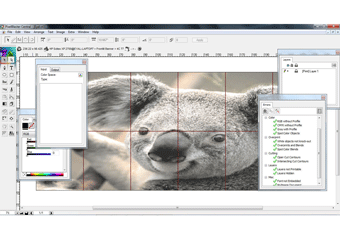 SAi International (SAi), a leading provider of solutions for the professional signmaking, large format digital printing, and CAD/CAM for CNC machining industries, has announced that it will officially unveil its new PixelBlaster print production software on its stand (J46) at FESPA Digital 2012 (being held February 21-24 in Barcelona, Spain).
As the latest offering from SAi's growing line of comprehensive, professional software solutions spanning design to production, the modular and scalable PixelBlaster uses standardized printing to ensure predictable and consistent print quality and color. This means that in print facilities operating a number of different devices, PixelBlaster ensures each machine outputs the exact same color, regardless of the brand of hardware, the type of inks they're running or the various substrates they're printing on.
Eliminating the need for multiple software programs to run production, PixelBlaster has been designed to reduce bottlenecks, streamline workflows, and increase profitability. The software offers a complete production solution from file verification, job preparation, color management, RIP to analog or digital, and finally output check and production.
PixelBlaster has been specifically introduced to meet the needs of users in super-wide high volume print production environments, as well as the increasingly important specialty printing sector which embraces substrates such as glass and ceramics. Using modular building blocks, PixelBlaster can also be easily tailored and scaled to fit users' needs in mixed Macintosh or Windows environments.
Commenting on the launch of PixelBlaster, Gudrun Bonte, product manager at SAi, says, "Many print service providers increasingly run a mix of different output devices from different manufacturers. PixelBlaster acts as a nucleus to pull these together and ensure consistent print and color quality regardless of the equipment or media.
"We therefore feel that PixelBlaster offers new tangible performance features, not offered by similar production software options currently available on the market. These solutions typically focus heavily on the print preparation element, whereas PixelBlaster is a genuine start-to-end, modular and scalable solution covering pre-flight to production that can span an operation's entire print hardware line-up."
"The company's collective industry expertise and color knowledge have given birth to this revolutionary new product," adds Sarit Tichon, Senior VP Worldwide Sales at SAi. "PixelBlaster is the first solution of its kind to deliver standardized printing to the large format industry. This in itself ensures the software fulfills its aim of addressing and meeting the specific needs of those operating in today's demanding print environments."
During FESPA Digital, SAi's specialist team will showcase all of PixelBlaster's production tools from file verification, RIP to digital and analog, proofing, N-Color support, contour cutting, output check and preview, last minute correction tools, easy tiling, to automated finishing options for grommets, Fotoba marks, hems, pockets or sewn-in webbing.
SAi's new PixelBlaster production software solution is available now.
For more information, email [email protected].