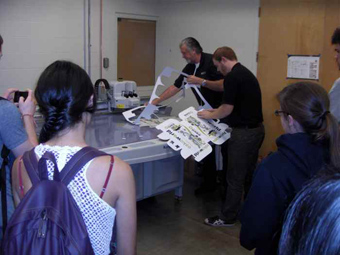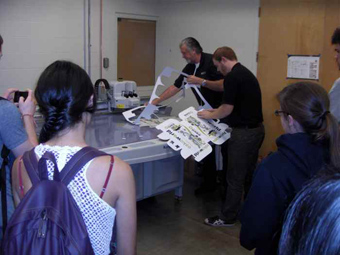 Packaging and digital print solutions are being put to good use in the classroom and in the research labs. EskoArtwork investments at Cal Poly State University's Graphic Communication Department offer not only digital print and packaging learning opportunities in the classroom, but cutting edge printable electronics research in the laboratory.
Cal Poly State University's Graphic Communication Department is one of the best-known programs of its kind in the nation. The program is the largest in the western United States with over 33,000 square feet of modern laboratories, including two cutting-edge laboratories—the Design Reproduction Technology Laboratory and the Electronic Publishing Laboratory. The department has one of the largest industry support programs in graphic arts education with the vast majority of its equipment and facilities donated by industry. The department maintains an enrollment of approximately 300 students pursuing a Bachelor of Science degree in Graphic Communication with concentrations in Graphic Communication Management, Web and Digital Media, Design Reproduction Technology, and Graphics for Packaging. The Electronic Publishing Laboratory (EPL) is a state-of-the-art graphics imaging laboratory used during regular classroom instruction with open lab time for the Graphic Communication Department.
"Partners in Education" has been the theme of Cal Poly's Graphic Communication Department's ongoing relationship with industry. It is the driving concept that brings the industry and university together for the benefit of both. Through laboratories supported by industry, students become acquainted with the companies and technologies that drive the graphic communication profession. Through cooperative education and internships, industry has access to some of Cal Poly's finest Graphic Communication students who can immediately contribute on-the-job while learning from company leaders.
Through the Graphic Communication Institute at Cal Poly (GrCI), industry has access to research, testing, product evaluations, consulting, seminars, workshops, and conferences. Established in 2001, GrCI is an outreach effort of the university's Graphic Communication department, created to provide industry professionals with access to Cal Poly's state-of-the-art resources via workshops, custom training programs, consulting, laboratory testing, and research initiatives. GrCI educational programs involve the participation of Cal Poly faculty, leading industry experts and advanced students from the Graphic Communication program.
"The Cal Poly education emphasizes hands-on learning by doing. Students get experience using professional equipment, which is a key to success of the program at Cal Poly," explains Harvey R. Levenson, Ph. D., Department Head, Graphic Communication.
A wide range of EskoArtwork software and hardware technology can be found in two lab areas. An extremely high resolution CDI with SecuFlex and HD Flexo technology and a Kongsberg finishing table are devoted to packaging work, particularly from flexo and gravure. Along with the CDI and Kongsberg XL 20 table in the flexo and gravure imaging lab, Cal Poly operates the EskoArtwork Digital Flexo Suite, allowing them to position many images on a plate to save plate material and automate the plate cutting process. The graphic pieces are cut, drilled and mounted on a cylinder. "Students at Cal Poly are able to explore some of the latest productivity advancements because the EskoArtwork CDI has inline UV capabilities," adds Levenson.
Cal Poly will be using its other Kongsberg table—an i-XE10 Auto—with its new HP 4000 Indigo digital press to create labels and other materials such as thin gauge flexible packaging and paperboard packaging. "We're going full speed ahead," enthuses Malcolm G. Keif, Ph. D., Professor, Cal Poly Graphic Communication Department. "Students will be able to 'prepare' materials online, print them on the Indigo press, and finish them on the Kongsberg table."
Recently, Cal Poly upgraded its software to Suite 10, featuring Automation Engine 10. "Automation Engine 10 is a cleaner, more visual workflow for our students," says Keif. "EskoArtwork offered us an extremely generous license so all our students can work on the software at the same time."
Cal Poly uses the software throughout the entire curriculum. In their flexography class, students will work with HD Flexo, pushing the envelope with 200 lpi screens. They will also be creating prototypes in their consumer packaging class and using the Kongsberg table and Equinox color management for the Indigo press in their digital printing class. There are even applications for JDF with a Heidelberg press and a CIP3-compatible Polar-Mohr cutting system.
Cal Poly students used the Kongsberg XL20 for this year's Phoenix Challenge. In the future they will use both the Kongsberg table and their EskoArtwork workflow for the competition.
Cal Poly has plans to develop a graduate program for printed electronics and functional imaging—topics such as electro luminescence and photovoltaics—overseen by Keif. It is one of the reasons why EskoArtwork installed the highest (10,160-ppi resolution) CDI at Cal Poly, the most advanced digital imager available. It allows the school to conduct research into functional materials and fine patterning.
Two broad projects will rely on the high resolution CDI imager. One is creating print technologies for electronic signs or displays. Almost any electronic display or sign requires a transparent conductor as a front layer that we can see through. One of the strategies is to print a very fine conductive silver grid—an electrode front, like a screen door. "We need super fine imaging," explains Keif. "We will be running a number of tests to see how fine a grid pattern we need to replace a transparent conductor. A 10-micron line is fine enough for most people, which means there's a burden on the plate manufacturer to provide a fine, crisp 3 micron line that we can hold on the press."
The second project is testing the idea of printing small features tiny enough for a transistor for circuitry. The first step is to print and attain very fine gaps between the source and drain of a transistor, preferably below 10 microns. Cal Poly is researching the ability of the imager to produce fine plates for print. Producing high-resolution ablative films for screen printing of thicker, conductive inks are envisioned for the CDI.
Cal Poly has aspirations to develop research seminar programs through the Graphic Communication Institute. "The lab is really an EskoArtwork lab," says Levenson. "It's open to EskoArtwork to bring anyone to view their equipment in an independent setting."
Cal Poly expects to conduct two public workshops in the fall—one focusing on HD Screening and the other on process color for packaging, focused on near-neutral calibration. EskoArtwork will play an active role in these sessions.
"One of the rationales to fit Cal Poly with EskoArtwork equipment is that it is the premier graphic arts school in the western US. Now we have a nice location from which to reach out to our customers. It's a nice fit for students and for EskoArtwork," explains Larry Moore, EskoArtwork director of software services in North America. "They have built a nice laboratory setting for a West Coast presence. We know that Cal Poly appreciates our commitment to them and we appreciate their commitment to growing their packaging and printed electronics curriculum."
"EskoArtwork is indicative of the partners we seek for our education program at Cal Poly," concludes Levenson. "Cal Poly is committed to providing an education to assure that our students are viable in the industry; not only processes and technology for here and now, but in the future as well. EskoArtwork technology falls into that category. We are fortunate in that we can pick and choose the equipment we place at Cal Poly. EskoArtwork tools offer our students the most relevant experience with solutions they will likely use in industry, once they graduate."
For more information about Cal Poly's Graphic Communication Department, visit www.grc.calpoly.edu.
For further details about EskoArtwork, log on to www.esko.com.