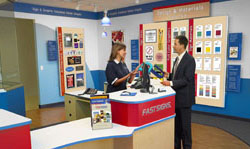 FASTSIGNS International, Inc., the worldwide franchisor of FASTSIGNS® sign and graphics centers, is pleased to welcome Gary Feltham to the position of Vice President of Business Development and National Accounts.
"Gary's experience in and understanding of the sign and graphics industry is both profound and diverse – something we feel will make him a strategic part of our National Accounts Program (NAP)," said Catherine Monson, Chief Executive Officer of FASTSIGNS International, Inc. "We are glad to have Gary as part of our team and we look forward to his future contributions to the NAP."
Throughout his career, Feltham has gained experience in business, sales, marketing and entrepreneurship, all within the sign and graphics industry. Before joining FASTSIGNS International, Inc., Feltham worked at Océ USA, Incorporated as the company's vice president of sales and later at Gerber Scientific, Inc. as the director of international sales. In between working with Océ and Gerber, he opened and operated his own independent sign shop, Innovative Printers, in California. Upon deciding to return to the corporate world, Feltham sold his profitable business to his partner.
"I believe that my consistent history of profit growth through business development disciplines will be my strongest contribution to the NAP," said Feltham. "In addition, my twenty-plus years of experience working in the digital image and sign business will add a second level of credibility among my team, the franchise owners, and our customers."
For more information about FASTSIGNS, call 800/FASTSIGNS or visit www.fastsigns.com.