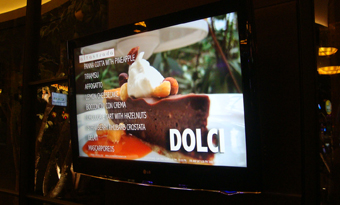 Digital Signage Expo® (DSE), the world's largest International Tradeshow and Conference dedicated to digital signage, interactive technology and digital out-of-home networks (DOOH), will present a total of eleven new seminar topics
in its Interactive Technology and Network Operations educational tracks within a reformatted and expanded Conference Seminar Program on February 22-25, 2011, in Las Vegas.
The Network Operations Seminar Program is comprised of five individual hour-long seminars and will focus on the operational requirements of revenue-generating digital signage systems in such venues as retail, restaurants, health clubs and transportation facilities as well as the requirements for systems operations in such institutional venues as higher education, healthcare facilities and government agencies. Topics to be covered include:
* Digital Signage System Design
* Proof of Performance
* Pre-Installation & Rollout
* Incorporating & Managing New Technology
* DOOH Network Management
The Interactive Technology Seminar Program is comprised of six individual hour-long seminars and will provide information and education on the application of a range of interactive technologies, including enhancing the user experience, increasing sales and providing directions. Topics to be covered include:
* Interactive A to Z: Now & Future Technologies & Applications
* Using Interactive Technology to Lift Sales & Drive Revenue
* Using Mobile, Touch & Other Interactive Technologies to Validate User Engagement & Campaign Effectiveness
* Using Interactive Technology to Entertain & Engage Customers & Visitors
* Using Interactive Technology to Inform & Direct
* Using Interactive Digital Signage to Rev up Events!
Sessions will be a combination of case study presentations and panel discussions designed to involve and engage attendees. Sessions will be led by professionals and end-users who will share their hard-earned experience. The faculty members come from a variety of disciplines within DOOH Networks, as well as end-users from the advertising, hospitality, retail grocery, stadium/arena, and transportation fields along with knowledgeable industry consultants and technology providers.
Richard Lebovitz, Educational and Editorial Director for Exponation, LLC, which produces DSE said, "The Network Operations and Interactive Technology Track presentations will contain demonstrations of new and exciting technical applications, compelling case studies. These sessions also feature many new presenters to DSE so attendees in 2011 have the benefit of learning about different approaches to successful outcomes."
The full curriculum, seminar and speaker information can be found at http://digitalsignageexpo.net/DigitalSignageExpo/Overview.aspx.