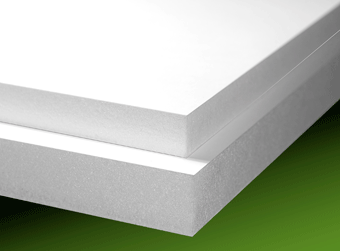 3A Composites USA has expanded its line of Gatorfoam® Exterior, a tough new Gator® board that is designed to stand up to the elements in exterior graphic displays and signage. Gatorfoam Exterior now is available in the Bright White color in 48-inch-by-96-inch sheets in the 1-inch, 1.5-inch, and new 2-inch thicknesses.
Gatorfoam Exterior offers all of the features of Gatorfoam, the industry's leading heavy-duty foam board for more than thirty years. Gatorfoam consists of polystyrene foam bonded between two layers of wood-fiber veneer laminate. This unique construction makes Gatorfoam rigid yet lightweight and warp-resistant; its surface also is exceptionally smooth and strong, offering superior dent- and scratch-resistance.
To enhance its weather performance, Gatorfoam Exterior is manufactured with a specially formulated adhesive that improves both bond strength and moisture resistance. This adhesive reduces the chance of delamination when Gatorfoam Exterior is exposed to outdoor conditions, including heat, cold and humidity. Gatorfoam Exterior has been tested according to ASTM D1183 C in temperatures ranging from -70°F to 160°F and in the combination of high heat and humidity (100°F with 95 percent relative humidity).
This glue formulation has been improved even further over 3A Composites' original offering of Gatorfoam Exterior earlier this year. The enhanced adhesive does not now "yellow" over time.
"3A Composites continually focuses on meeting customer needs by expanding and improving our product lines," said Brandon Wyatt, marketing manager, graphic display, 3A Composites USA. "While we were happy to introduce our original offering of Gatorfoam Exterior, we wanted to make it even better. We've done so by enhancing our adhesive even further to prevent yellowing of the glue line over time. We've also expanded the Gatorfoam Exterior product line to include three of the most sought-after thicknesses for exterior displays."
(Gatorfoam Exterior also is available as a custom order in the 3-inch thickness in Bright White 48-inch-by-96-inch sheets. Non-stocked Bright White inventory thicknesses of less than one-inch also may be custom ordered.)
Gatorfoam Exterior is the ideal substrate for exterior signs and displays with mid-term lifespans. It may be decorated with both direct digital printing and screen-printing operations as well as painted. It is recommended that the exposed edges of Gatorfoam Exterior be sealed with a non-solvent paint or primer; the substrate core should not be exposed to solvent-based paints. Gatorfoam Exterior may be either saw cut or routed.
For more information, call 800/626-3365 or visit www.GraphicDisplayUSA.com.