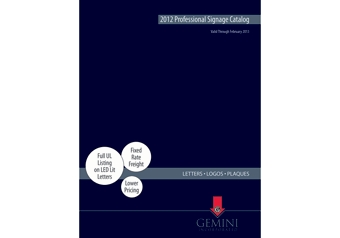 Gemini Incorporated, a leading manufacturer of dimensional letters, logos and plaques for the sign industry since 1964, announces the publication of its 2012 Professional Signage Catalog. At 228 pages, the price list is Gemini's most comprehensive signage catalog to date with prices effective through February 2013.
While this year's catalog features many new products and options, the most important changes are the numerous price reductions on many popular product lines—including clear anodized letters, cast & flat cut aluminum letters, flat cut acrylic letters, and bronze plaques. In addition to these price reductions, Gemini has also included a fixed rate freight option to provide customers with an all-inclusive price right at the time they place their orders.
For the first time ever, Gemini's catalog features Fully UL Listed GemLite Channel Letters, which come complete with wiring diagrams, installation instructions and a UL sticker on the outside of the letter. This is exciting news for sign professionals, who now have the guaranteed assurance that GemLite letters meet all UL specifications.
Other new features to Gemini's product lines include a new Buffed Cast Aluminum option that is highly reflective and pleasing to the eye, a new polyurethane clear coat for aluminum letters that is more abrasion resistant than the original acrylic powder clear, and an oxidized option for pure copper letters in either a medium or dark color.
Several new options are also available in Gemini's line of Fabricated Stainless Steel Letters. Among the new material offerings are Perforated, Copper Tone, and Hair Line black. In addition, a new "Outline" illuminated face option is also available.
New developments in plaque and wayfinding signage include full color images and plaques on all-weather polycarbonate, aluminum or stainless steel. The new polycarbonate panels are rigid, weatherable and nearly indestructible. An additional option to complement these Giclee panels and ADA plaques is Gemini's new injection molded architectural frames made of recyclable CAB plastic.
Gemini has added two new typestyles to its family of cast letters. Based on overwhelming customer demand, the two new cast styles are Classic Roman and Trajan Bold Prismatic. These are available in all standard aluminum and bronze cast finishes, meaning no custom fees for selecting these fonts.
Now entering its forty-ninth year of business, Gemini has manufacturing plants in Minnesota, Iowa; Texas; Nevada; Virginia; Ontario, Canada; and Tamaulipas, Mexico. For more information, call 800/538-8377 or visit www.signletters.com.