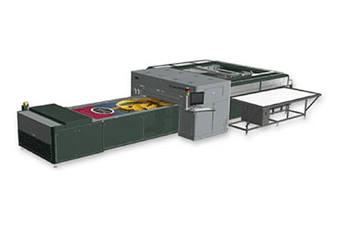 HP has announced that Britten Banners is building a competitive advantage in wide format graphics production, using the HP Scitex FB7500 Industrial Press1 to increase productivity and shift from analog to digital printing for medium-length runs.
Installed earlier this year as the digital production centerpiece of Britten Banners2' new Traverse City, Michigan, print facility, the HP Scitex FB7500 Industrial Press is a versatile UV-based solution for cost-effectively producing mid-volume and versioned jobs that would be too expensive to create on analog equipment. At Britten Banners, the HP Scitex system fills a productivity gap that existed between lower-volume, short-run digital technologies and the company's extensive analog screen printing operation.
"We have older digital flatbed equipment that is reliable and offers great quality, but it is limited to about 15 sheets per hour," said Paul Britten, president, Britten Banners. "We use our HP Scitex FB7500 Industrial Press to produce 75 65-by-126-inch sheets per hour, two shifts a day. The increase in throughput makes us faster and more competitive on medium-run jobs."
The HP Scitex FB7500 Industrial Press's productivity increases the economic break-even point between analog and digital at Britten Banners, which means the company, according to Britten, can rely on digital printing's low waste and fast turnaround for nearly any job with a run length up to 700 pieces. The company also can transition more of its solvent work to UV-curable production, reducing the impact of its printing on the environment.
"We do some solvent ink printing, but we were impressed with the reliability of a UV-ink HP Scitex TJ-series press we installed a few years ago," said Britten. "That gave us confidence to transition more work to UV inks, and the strategy has continued to pay off with the new purchase."
Driving Digital Growth in Industrial Large Format Production
Printing at speeds in excess of 5,300 square feet per hour, the HP Scitex FB7500 Industrial Press can print on rigid and flexible media up to 0.98 inches thick. Its high productivity makes the HP Scitex FB7500 Industrial Press a cost-effective digital solution for many jobs typically produced using analog equipment.
HP UV-curable inks produce high-quality, fast-curing and vibrant images for point-of-purchase displays, signage, exhibition graphics, backlit displays, bus shelters, posters, packaging, specialty rigid applications and more. Water- and abrasion-resistant HP UV-curable inks cure with light exposure, offer two-year outdoor durability and do not require large drying systems.
More information about HP Scitex industrial presses and printers is available at www.hp.com/go/scitex, through the HP Graphic Arts Twitter feed at www.twitter.com/hpgraphicsarts, and on YouTube at www.youtube.com/hpgraphicarts.