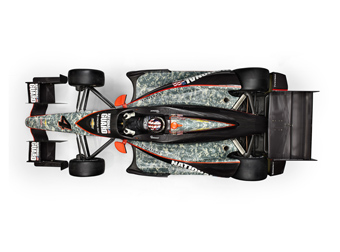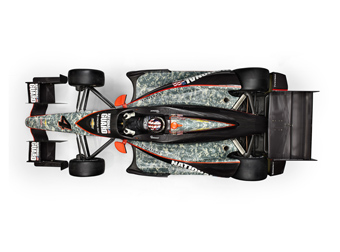 When the IndyCar Series starts its engines later this month (first race: March 24 in St. Petersburg, Florida), sign shops and graphics providers should pay particularly close attention to driver J.R. Hildebrand. Not only is Hildebrand a fast-rising star on the racing circuit but his team, Panther Racing, is making quite a name for itself in the wrap industry—on and off the track.
Panther Graphics is the sister company to Panther Racing, which is based in the heart of IndyCar country in Indianapolis, Indiana. Thanks to the success of its wrapped racecars over the years, it was a no-brainer that Panther Graphics would look to branch out its services to those vehicles not caught up in a race.
And it can thank the National Guard for this decision.
The Pace Car Lap
The National Guard has been (and continues to be) the lead partner for Panther Racing since 2008. That first year, they did a patriotic red-white-and-blue paint scheme for their IndyCar racecars. (At the time, Panther Racing painted the colors, logos, and decals on the cars.)
But since red and white are two very popular colors used on these racecars, Panther Racing began searching for ways to differentiate their car before the start of the 2009 season. Their solution: A camouflage pattern.
However they realized that this camouflage design pattern they'd cooked up was going to be too time-consuming (if not downright impossible) to paint. They decided a vinyl wrap would be the ideal solution and hooked up with a company in Alabama to print out and wrap former driver Dan Wheldon's car with their design. "After the first race, we were pleased with not only how well the camo graphic looked but also how well it held up," says Nic Baumann, president of Panther Racing. "And the fans were just as excited about this design."
The original plan was for the camouflage pattern to be a used-only-once design, but judging from reaction, Panther Racing decided to use it regularly in 2010 (and beyond). So a year later, they hired Tony and Robby Kendricks, installers at the company in Alabama, and graphic artist Neal Cross to come onboard with them full-time.
With this framework in place, Panther Racing soon started giving serious idea to becoming a wrap specialist for clients outside the racing industry as well. The end-result: Panther Graphics leapt into action in late 2011.
Getting Up to Speed
Panther Graphics is racing along with five full-time employees for all its wrap work. In addition to the camouflage pattern, Panther Graphics has the freedom to dream up and design anything for Hildebrand's racecar. "We can do anything except put conflicting sponsors on the wrap, of course," says Baumann.
Special wrap designs for Hilderbrand's racecar last year included a pink camouflage pattern to honor female National Guard soldies and an NFL 49ers-themed car complete with a football and the red-and-gold color scheme for a race near San Francisco. (Note: Not only does Hildebrand hail from the San Francisco area, but San Francisco 49ers Head Coach Jim Harbaugh is a co-owner of Panther Racing, as well.)
For these special designs, Panther Graphics just prints out the new vinyl wrap and places it over the existing camo wrap. "That way, we're able to pull it right off after the race and return to the original scheme without having to take any additional time for repainting or rewrapping," says Baumann.
Full Throttle
Panther Graphics shares with Panther Racing the same 60,000-square foot facility in Indianapolis. They employ two HP Designjet 26500 sixty-three-inch latex printers for outputting all wraps.
Baumann explains that the ORACAL ORAJET 3751RA wrapping cast film is their go-to vinyl on just about every project they do. "It just has that nice blend of conformability and reliability for the adhesive," he says. "You know that, when you stick it down, it will stay stuck down. You don't have to use any primer on it."
Different works bays are designated for building the racecars, while the wrapping bay is determined by the location of the car in question at the moment. Panther Graphics likes to do as much wrapping as they can indoors since they can control the environment. However there are times they have to do them outdoors, and with the unpredictable weather in Indiana, timing can be a gamble. "If temperatures dip below 40ºF or 45ºF, the vinyl can start to get brittle," says Baumann. "And if it starts to get too hot, the vinyl can want to start stretching or moving around when you've barely touched it."
It takes Panther Racing/Graphics about two days to wrap an entire IndyCar racecar. "Any installer will tell you that a majority of your time involves waiting for artwork from design," explains Baumann.
Baumann states that his Panther Graphics can probably wrap different camouflage patterns in their sleep, which means there isn't a lot of wasted vinyl on the floor. "You always have to create a little bit of bleed on everything so you can do your final trim work right there on the car," says Baumann. "We really love using knifeless tape to trim things off the car as we're working, so that we're not using any blade on it."
While Panther Graphics always puts a laminate onto anything that's printed, they've discovered that adding a clear coat on top of this allows the racecars to shine and stand out even more and double or even triple the longevity of its livery, something they're now trying to offer non-racecar clients as well.
Speaking of non-racecar clients, Panther Graphics has done their fair share of wrapping outside the racing industry: panel vans, box trucks, delivery trucks, Hummers, and even luxury cars—like a special wrap for a Mercedes-Benz SLR McLaren car. "That's a $250,000+ car, but we weren't stressed, since an IndyCar racecar costs $600,000 or more," says Baumann, "which is a factor that brought this car's owner to us."
Like most wrap shops, Panther Graphics uses vehicle outline and design templates for their out-on-the-street wraps. But for motor sports, templates for IndyCar racecars don't exist, so they have to build a template. "That's why I say a lot more of our time is involved in the design than the install," reaffirms Baumann.
Although they love to get hands-on when it comes to taking vehicle measurements for wraps to make sure that everything will be spot-on, there are those times when it's not possible. "Sometimes we have to do all the design work and all the prep work prior to actually being able to physically see the vehicle," says Baumann. "In that case, we'll get as many photos as we can, and within those photos, have some sort of reference point [holding up a pack of cards, holding up a ruler, etc.] so that our designers can then have a reference point for the size of the surface."
Baumann tells his customers that the higher-resolution the image then the better the wrap will look. He suggests 300-dpi. "An image might look great as a four-by-six photo or on their computer screen," he says, "but you have to let them know that you're going to be blowing up that image ten, twenty, or thirty times its size, so you're going to see a lot more detail which can lead to pixilation."
Overall Panther Graphics prefers working on wraps that are a challenge. "The racecars are fun because there are a lot of complex curves on them—a lot of things you're having to work around and deal with," says Baumann, noting that box trucks and big trailers, on the other end of the extreme, are actually the easiest to wrap. "We've wrapped a lot of fifty-three-foot-long semi-truck trailers as well. Other than just the size of the job, when you're sticking vinyl to flat surfaces to them, it's always a lot easier than when you're not having to work around curves."
The Checkered Flag
Panther Graphics is currently working on a couple of unique, top-secret car wrap designs for Hildebrand that they plan to unveil a couple of times throughout this upcoming season. In the meantime, the company has also found success wrapping custom designs onto motorcycle or racecar helmets for people.
"Painting helmets can cost a person $1,500 or $2,000 and take a couple of weeks," says Baumann. "But we can wrap a helmet in about forty-five minutes at about a quarter of that cost. Many times, they just have one helmet and can't give it up for two to three weeks. For us, it's just a matter of figuring out the shape of the visor and where the vents are located.
"In addition to lamination, we'll also shoot a clear coat over it because helmets get banged around a lot and/or dropped."
Another popular trend that Panther Graphics has noticed have been full color changes on vehicles. They apply colored ORACAL 970RA cast wrapping vinyl straight out of the box and onto the car or truck. No printing. No lamination. "Our wrappers can pull the color out of the box and stick it on," says Baumann. "There's no waiting on art files or approvals."
Nic Baumann notes that his business is always up for a challenge, so Panther Graphics has also increased its wrap reach with wall graphics. "We push the message—out to clients and potential clients—that you can put wraps on just about anything," he says.
Panther Graphics has already decorated an exterior wall of their facility with vinyl wrap graphics branding their business, as well as several of their interior walls. For the interiors, they work on these when they have the time (with more walls planned for coverage in the near future).
There are several comic book fans at Panther Graphics, so it shouldn't come as a surprise that one of the designers would create a collage featuring repeat-free comic book covers for the walls of the design room. He spent almost a week surfing the Web to find the best high-res images. To print out onto fifty-four-inch-wide vinyl panels. "The agreement is our employees can design whatever they want on their walls," says Baumann. "It took our installers only a couple of hours to put this up."
Not only did these larger-than-life wall coverings add some personal style to the environment (and "dress up otherwise blank surfaces"), but they also allowed Panther Graphics to test their abilities. "The inside walls are more for customer demo purposes," adds Baumann, "while the outside wall is for branding, demonstration, and testing."
Wrapping a vehicle involves going over it with a lint-free rag and some alcohol or cleaning material to make sure the surface is clean and free of debris. What about walls? For regular drywall, they've found this doesn't involve a lot of prep. "The main thing is making sure the vinyl is straight before you apply it," says Baumann.
However the brick wall outside their facility was a bit more challenging. Baumann and his team spent two days adhering the vinyl with enough detail work to make the brick appear painted. "We went over that with a pressure washer to knock off as much grit and grime off the brick and mortar as we could because that's the biggest enemy to the adhesive," says Baumann.
Panther Graphics finds that the design possibilities are endless with wall graphics thanks to the capabilities of today's printers. "Installation takes very little time and is instantly ready for use upon finish—there's no need for second coats or dry time like paint," explains Baumann. "They're comparably priced to paint work but with an infinitely higher level of design detail possible.
"And you can always quickly pull them down with little to no indication that they were ever there in the first place," says Baumann, noting this last point here is significant for clients who are leasing facilities and can't make permanent changes or don't want to have to pay to repair holes or paintwork later.
Panther Graphics also recently concluded promotional activity via the company's Facebook page where they solicited unique potential projects for a limited time and offered to do free wraps for those that really challenged them creatively and professionally. Not only would these better enhance their capabilities down the road, but they also work as a form of effective advertising for their full wrap services. "We're letting everybody know that we're not just working on Panther Racing's cars," says Baumann. "We're a full-time business that will wrap anything else that anyone throws at us."
Baumann and his employees spent 2012 getting Panther Graphics up to speed to serve their race team and the general public. Thanks to the company recently receiving Master Certification from PDAA, the sky really is the limit for them this year (and beyond).
—Jeff Wooten