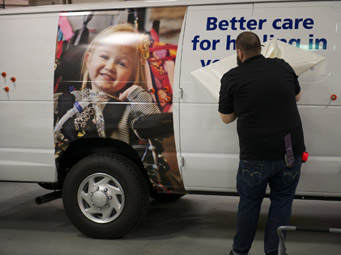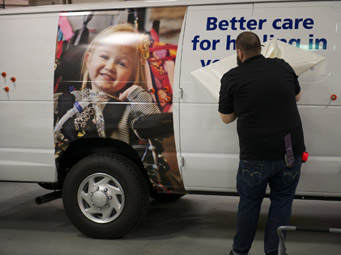 Mark Blundell, the CEO of SA International (SAi), a leader in design-to-production software solutions for the sign making, digital printing, screenprinting, and CNC machining industries, recently gave his thoughts on several topics pertinent to sign making and wide format businesses.
What do you see as the main challenges facing sign shops and wide format print businesses today and how is SAi helping customers to overcome them?
From the focus groups that we hold periodically, our users always concur that the fundamental challenge is to continually bring business through the door. That, coupled with rising costs, an increasingly competitive landscape, and the need to meet often near-impossible customer deadlines – and that's during a favourable economic climate. Right now, the industry is still sore from the global recession, so it remains an extremely tough ride for those at the sharp end of the sign and print business.
Since many of our customers are relatively small sign and print providers, we wanted to provide effective, tangible support that would address the main issue of driving new business their way. Also, given that around 80 percent of business is repeat or referral, we wanted to ensure that once they make an initial introduction, those businesses keep the customers we send them long-term. This is just one of the fundamental objectives of the recently announced International Sign & Printmakers Guild, of which we are the founding sponsor.
Sounds interesting – how will this work?
The Guild is a member-led organization, designed to help sign and print providers grow their businesses and reduce costs. Membership is free to any sign or wide format print shop until April 7, 2013.
Basically, the model works a bit like that of the flower delivery network, FTD: SAi will promote the custom sign-making service to the general public who, via a dedicated online portal at www.sign.com, can choose their desired design template, wording, artwork, etc. Upon receipt of an order, sign.com will route it to the closest ten local Guild members to pick-up (if they like the job) and fulfill.
Each successful Guild member then has the potential for subsequent, direct business with the customer in the future, while also enjoying the possibility to negotiate incremental services like installation, accessories, and de-installation. This is not currently the case with similar models available in the market. Indeed, with some other national Web sites, sign production is centralized in one location before shipment to customers who might be 1000 miles away. Because it routes locally, our system is quicker, more efficient, less open to issues like damage in transit, and less complicated in the eventuality of returns.
Fundamentally, the Guild initiative brings business to the door of its members, and in doing so, meets head-on the main issue that matters most to sign and print businesses. For these, it's all about maintaining workflow and ensuring a constant level of production.
Indeed – with that in mind, have you any advice for wide format print providers that might be looking to enhance throughput and fulfill customer orders more quickly?
From what our own users tell us, it's definitely worth remembering that not all RIP software is created equal. Regardless of the output quality, substrate capability, or size of one's wide format printer, if the steps in the RIP software are slowing things down and creating bottle necks, then it will add time and money to print jobs. The same can be said of cutting devices. I would suggest that these users take a close look at what's available on the market and consider investing in those feature-rich software packages that offer a multitude of in-built, performance-enhancing attributes to maximize design and production.
Are there any particular market trends that you've monitored in recent times and how have these influenced your product development program?
We've observed that markets like China and the rest of Asia, as well as in South America, are growing fast and this has had a positive impact upon sales. However, reflecting global manufacturing trends, in a couple of our other important markets – namely the US and Europe – sales of printers and cutters are generally on the decline.
Also, to some degree, there is evidence of a commoditization of certain technologies, some of which have already reached the top of the curve in terms of the technological innovation that they can feasibly continue to deliver users. With this in mind, we looked towards how we can continue to drive value to our customers, which has seen us harness the growing prevalence of the cloud.
You're referring to the recent introduction of your cloud-based software solutions – can you tell us more about this?
Basically, we are using the cloud to deliver web-based tools that drive efficiencies and offer increased value and control to business owners. Typically, these users are being asked to do more and more in less time. Also, mirroring the work styles of today, business owners expect to be in control of what's going on – even when on the road or way from the office. FlexiCloud and PhotoPRINT Cloud extend the benefits of two of our best-known brands to afford users greater versatility across production and job tracking, wherever they're working.
As part of this cloud-based toolset, we are the first RIP manufacturer to offer a free mobile app, SAi Cloud, which provides businesses owners with critical analytics on print-and-cut jobs, as well as printer and media usage – even when they're not around.
We're also offering FlexiQuote™ as part of our new cloud-based solutions, an innovative web-based calculating tool that allows users to quickly and effectively create customer quotes for new jobs within 30 seconds. Here the objective is more about enhancing efficiency, as the tool is specifically designed to overcome the occasionally troublesome and time-consuming job quoting process, often faced by sign-making and wide format print businesses.
Still on the topic of trends, given that the software technology has slight similarities to some of your own solutions, what are your thoughts on the increasing popularity of 3D printing?
Clearly, interest in 3D printing continues to gather strength, and as a company, we always have an eye on breakthrough technologies and where they're going. In fact, we have already established an e-publication, Replicator World, which is our own communication tool that demonstrates developments with the technology and where it's being used.
3D printing is moving from the world of rapid prototyping to what I like to call distributed manufacturing, and it's likely that a number of the device manufacturers with whom we work will at some point have a 3D offering. In the same way as print bureaus emerged to offer printing, before people bought printers for in-house capability, I think 3D printing will go the same way.