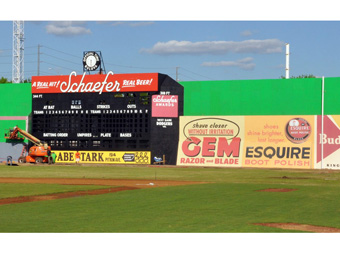 For graphic designer Martin T. Charles of SagaBoy Productions, the digital revolution has shaped both his art form and career, extending the creative boundaries for a myriad of film graphics he has produced over the years.
As one of 2013's newest members of the Academy of Arts and Sciences and designer for both the recent movie 42 and the HBO hit series, The Newsroom, Charles is no stranger to the lightning-fast pace at which Hollywood works.
To keep in step with these demands, he brings the technology industry's most advanced digital design tools to his work behind the scenes.
"We are able to produce and perfect our graphics today in ways that would have seemed impossible just a decade ago," he said. "The tools I have now are nothing less than magical."
Charles began his career in Los Angeles in the early 1990's after earning a Bachelor's degree in communication design from Pratt Institute in New York. Since then, he has seen digital technologies transform sets, props, and other graphic elements while serving as graphic designer for more than fifty feature films. In addition to 42, his vast list of film credits includes Marvel's The Avengers, Public Enemies, Miami Vice, Leatherheads, Charlie Wilson's War, Love and Other Drugs, Larry Crowne, AI: Artificial Intelligence, Minority Report, Be Cool, 50 First Dates, Seabiscuit, Catch Me If You Can, Murder by Numbers, Stuart Little, and That Thing You Do, among others.
On the set, he is known for his attention to detail and ability to bring originality and authenticity to each project's visuals. That's where digital comes in, he says. Not only signs, but windows, floors, walls, ceilings, artwork and even wine and beer bottle labels are designed and printed on one of Charles' two Roland large-format printers.
"It's all about adapting to the vision for the production," said Charles. "The more tools you have to build on a design theme, the more creative and inspiring your results will be. I never recycle anything I've used before. I have to build it fresh in my own mind and then work with the most advanced technologies available to bring a concept to life."
To accomplish all of this, Charles researches his graphics extensively, searching for images and concepts that can help him implement the artistic trends at the time of a film's setting. To flesh out each idea and image, he relies on a digital workflow, including his Roland printers, which offer the speed, precision and versatility he requires.
For The Newsroom, Charles worked closely with production designer Richard Hoover to implement visual themes for the show.
"What had to be achieved was a very large, translucent newsroom, visually designed so that from every room and every angle, you saw large, imposing graphics, yet were left with a sense of ease," said Charles.
For the show's primary newsroom set, more than 2,000 square feet of graphics were produced and installed. The resulting iconic backdrop has framed some of television's most powerful recent performances.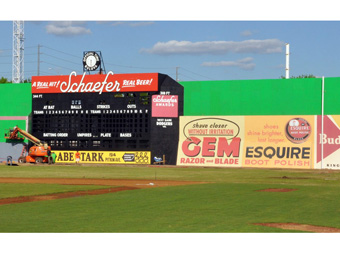 For 42, Charles was called on to create a highly authentic backdrop for the film's story line. Among the hundreds of graphic elements he produced were full-scale replicas of 1940s billboard advertisements (pictured, left) typically displayed throughout Ebbets Field and other famous ballparks during this time period.
"In all my years of working on films, 42 stands out for the sheer number of huge graphics needed and the extremely short time frame, even by movie standards," said Charles. "We literally printed miles of graphics for this film."
He continued, "What is most incredible to me about all of this is watching these backdrops roll off my printers, panel after panel. Not only can we wrap an entire room on demand today, but we also now have mature, proven specialty inks that allow us to create the unexpected. White and metallic inks, in particular, enable interesting special effects and finishes that used to require hours of hand rendering even just a few years back.
"We also have an ever-expanding selection of new materials to print on, including beautiful fabrics that withstand the elements while adding elegance, richness and texture to a graphic."
For 42, Charles took his printers on set six weeks before final production was to start. In all, he designed graphics to recreate ten stadiums—along with airports, train stations, and local streets in five major cities (including Brooklyn and Harlem, New York).
Charles said he truly understood the term "mega advertising" as he began designing ads for the stadiums, each one measuring an average of 30 feet wide-by-20 feet high, with half spanning over 40 feet in width.
"It is such an honor to be a part of this industry and especially to now be a member of the Academy," Charles said. "I get to work with so many exceptionally talented people – and to experience every day as a unique creative adventure. It has been a wild, wonderful ride so far, and I look forward to all that the future holds."
To view the work of Martin T. Charles, please visit his online gallery profile on the Roland DGA Web site at www.rolanddga.com/gallery/interiors/martin-charles.