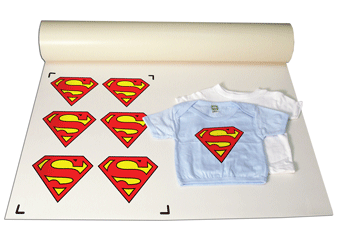 Graphics One, LLC (GO), an international distributor dedicated to providing innovative, high-quality products to digital imaging professionals, is launching GO OT Transfer Film, a new, totally green transfer film technology that is designed and optimized to be used with the GO EcoMax system and SEPIAX "green" ink.
The GO OT transfer film is an OEKO-TEX standard compliant high-performance stretchable transfer film that is perfect for transferring bright colorful images and designs onto light and dark fabrics.
The GO OT transfer film is fully optimized and usable with the SEPIAX "Green" water-based resin ink an award-winning and revolutionary ink which meets and adheres to the U.N. GHS standard for a truly remarkable safe and eco-friendly solution in the industry.
In addition, the OT Transfer film outputs high resolution images and graphics with great color quality and vibrancy without cracking or peeling and provides incredible washing durability.
According to Kerby Bonilla of GO's Tek Group, "We are very pleased and excited to provide our customers with this new and safe transfer film. The transfer film itself is OEKO-TEX compliant (which means that it is very safe on the skin), and with the combination of SEPIAX 'green' water-based resin ink, which adheres to the U.N. GHS standards, it is truly the most safest transfer technology available on the market.
"It's so safe that it is perfect for production of baby bib graphics."
The GO OT Stretchable Transfer film is great for high quality production of light and dark t-shirt and apparel transfers.
The GO OT Stretchable Transfer Films are available in 12-inch-by-90-foot and 24-inch-by-90-foot rolls in Gloss, Light or Matte finishes and are available immediately for purchase from Graphics One.