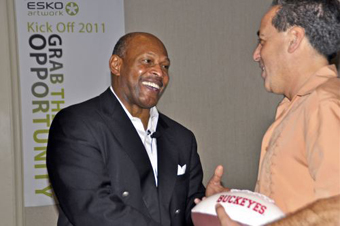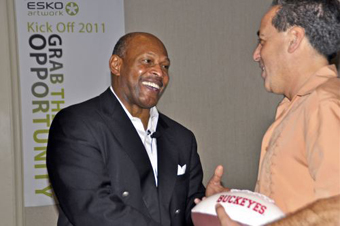 EskoArtwork Americas launched its 2011 kick-off meeting January 5, announcing the expansion of its sales organization to three regions and building a framework to serve customers in 2011. The highlight of the event was a motivational speech from two-time Heisman Trophy winner Archie Griffin.
"EskoArtwork Americas has invested in infrastructure during the past two years. This included a tremendous investment in people: direct and inside sales people, technical people, and software trainers. Meanwhile, we made them more effective by providing more training. We created a number of 'academies', such as CAM (Kongsberg tables), software, and flexo. Our people were involved in a weeklong training session at EskoArtwork headquarters in Gent, Belgium, for in-depth product, sales and support training. All of these efforts have prepared us for a successful 2011," explains Mark Quinlan, president of EskoArtwork North America.
The highlight of the event was a motivational speech by Archie Griffin, tying his experiences on and off the field to the desire and will to succeed. Archie Griffin is the president/CEO of the Ohio State University Alumni Association and the current spokesman for the Wendy's High School Heisman award program. (NOTE: In the photo above, Griffin congratulates EskoArtwork Senior Account Manager Jay Folickman on a successful 2010.)
Griffin is widely known as the only two-time winner of the prestigious Heisman Trophy, symbolic of "The Outstanding College Football Player of the Country," and a three-time All American in 1973, 1974 and 1975. Griffin, who graduated a quarter early with a degree in industrial relations, also received the NCAA's prestigious Top Five Award for combined excellence in athletics, academics and leadership, the highest award the NCAA can bestow. After graduation, Griffin was a first-round draft choice of the Cincinnati Bengals where he served as co-captain and played with the franchise for eight years. At the end of his eight-year professional football career, he returned to Columbus to receive an MBA and join the staff at Ohio State. Griffin also serves on the Board of Directors for Motorists Insurance, which has offices in downtown Columbus and the National Football Foundation and College Hall of Fame, based in Irving, Texas.
"Earning an education ranks right up there with some of life's best rewards. My athletic ability afforded me a scholarship to get an education. I took advantage of that opportunity. My football playing days are over, but I use my education every day. I wanted to relate to the people at EskoArtwork that a strong effort can help them achieve their own goals," notes Griffin. "Now with the support of several great area corporations, I have an opportunity to offer others what I once received: an athletic scholarship. The Archie Griffin Scholarship Fund creates scholarship opportunities for high school scholar-athletes to attend The Ohio State University."
With a larger sales organization, the spans of control are also greater. EskoArtwork's Miamisburg management team will now leverage its resources to assist Latin America. Part of the decision to move responsibility from EskoArtwork headquarters in Belgium was geographic. Much of Latin America operates within the same time zones as the United States, and it is easier to support customers during their business days. EskoArtwork used the kick-off meeting as an opportunity to announce the expansion of its sales regions from two to three, to service the Americas.
Aleks Zlatic, who continues to manage business in Latin America, will also oversee sales in the new EskoArtwork Western region. Tony Wiley, who has managed sales and customer service, will be responsible for managing sales efforts for EskoArtwork's Central sales region. Paul Lightfoot, who has had an exceptional track record of performance at EskoArtwork for more than ten years, will manage sales in the East. "All three of our regional sales managers are experienced, seasoned sales managers. They also have a great deal of expertise and knowledge in the industry," explains Quinlan. "We expect our managers to develop people. All three regional managers are aggressive with great track records of ongoing success, and are very adept at developing their people to reach full their potential."
"We're going into 2011 with the wind at our backs. All indications lead to strong growth in 2011, fueled by a large number of new product releases," adds Quinlan. "We're very excited about the year ahead."
For more information, visit www.esko.com.