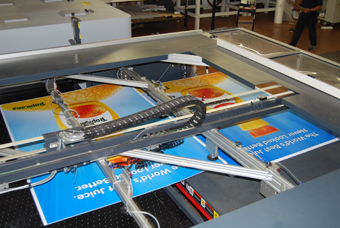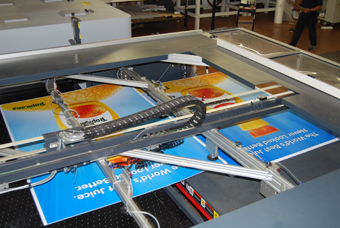 BP Graphics of Phoenix, Arizona is successfully transitioning more of its analog screen-printing work to efficient, high-quality UV digital printing with the installation of an HP Scitex FB7500 printer. The large-volume company—which already owns eleven HP Scitex printers—is working to streamline color management across its digital production platforms as a beta user of the new version of ColorServer Suite from GMG GmbH & Co. that is customized for use with HP Scitex printers.
The new printer and color management software offer a number of benefits that can substantially improve productivity at BP Graphics. With its 65-by-126-inch media capacity and print speeds that reach 5,380 sq.ft./hr., the HP Scitex FB7500Printer quickly and affordably produces longer-run jobs—work that the company previously completed using an analog screen printer.
"The HP Scitex FB7500 Printer's biggest advantage for us is its ability to do short runs as well as long runs, using one operator instead of two –all on a device that offers excellent quality on the same substrates we use on our screen printer," said Curt Carpenter, president, BP Graphics.
The HP Scitex FB7500Printeralso gives the company distinct advantages in proofing for longer-run signage and point-of-purchase jobs that once ran on its analog technology.
"We can do one-off proofs on the printer using the actual substrate for the final job, make any changes that customers request, and then print the entire job," said Carpenter. "Proofing on the actual production device gives us confidence that we are giving customers exactly what they want when we are printing a job."
BP Graphics has recently transitioned longer-run jobs that were once considered analog-only to digital printing, such as a recent job for 500 point-of-purchase standees that were efficiently produced, with more accurate proofing, on the HP Scitex FB7500 Printer.
The printer also helps BP Graphics better serve a growing number of customers who, instead of purchasing500 copies of a specific design, are likely to prefer a versioned run—100 copies of five different designs, for example—as a way to customize and improve their marketing efforts. Customized and versioned work can prove impractical for a screen-printing device because of the numerous screen change, set-up and make ready costs they incur. Digital devices like BP Graphics' fleet of HP Scitex equipment, however, can profitably accommodate those versioning requests.
The HP Scitex FB7500 Printer, with its extensive rigid media capabilities, complements a pair of HP Scitex TJ8300 Printers that extend BP Graphics' high-volume, high-end offering to flexible media graphics applications.
The GMG ColorServer Suite installed at BP Graphics gives the company a new level of color management consistency across its digital large-format printers. GMG, a member of the HP Graphics Solutions Partner program, designed the latest version of its ColorServer product with tools to simplify color conversions between color spaces. Users have the option of working with pre-loaded HP Scitex model settings on the server. Plus, the server includes GMG SmartProfiler software, which can further reduce the amount of time needed for printer profiling and calibration.
At BP Graphics, the server provides a competitive advantage on larger campaigns—work where identical graphics are produced on different printers using different substrates—including the full range of stadium graphics the company prints for one of its long-time customers, the Los Angeles Angels of Anaheim professional baseball team.
The GMG ColorServer system not only provides greater consistency on campaigns, it provides even bigger productivity benefits with jobs BP Graphics produces on its four HP Scitex XP5300 Printers.
In the past, according to Carpenter, BP Graphics minimized the risk of color inconsistencies by proofing and printing on the exact same device. "With the GMG ColorServer Suite," said Carpenter, "once we have an approved proof, the job can print on any one of the four HP Scitex XP printers. The extra level of consistency across printers translates into a huge improvement in our workflow for those devices because it eliminates the idle printer time or production delays that come with reserving a specific printer for a specific job."
In addition to the HP Scitex FB7500, XP5300 and TJ8300 Printers, BP Graphics also owns a pair each of the HP Scitex XL1500 Printer and the HP Scitex LX600 Printer with HP Latex Inks.
The long-term investments BP Graphics has had with HP is the result of a strong, growing relationship. Company executives, for example, traveled to HP's Scitex division headquarters in Israel to share their thoughts for the features and capabilities needed when HP was working to create the HP Scitex FB7500 Printer. BP Graphics also participates on the large-format committee in the Digital Solutions Cooperative HP users' group.
"BP Graphics has an admirable formula for staying on the leading edge of innovation and growing profits: provide high quality and high productivity for a full range of graphics needs, and then accelerate the business with new technologies that allow for even better service," said Jan Riecher, vice president and general manager, Graphics Solutions Business-Americas, HP. "We are proud to have a strong and extensive relationship with BP Graphics, a valued customer that will continue to do great things with the capabilities the HP Scitex FB7500 Printer offers."
More information about HP Scitex printers is available at www.hp.com/go/gsb.