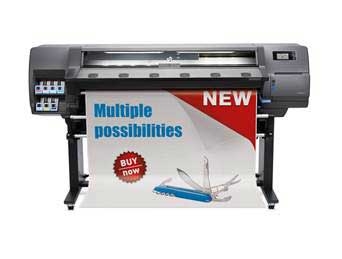 HP is introducing the new HP Latex 110 Printer, ideal for "print-preneur" customers seeking easy, affordable entry into large-format printing to jump-start a new printing business – whether from their home or a small, rented facility.
Now available in the U.S. and Canada, the 54-inch printer is ideal for low-volume production of indoor and outdoor large-format applications, such as vinyl, stickers, posters, canvas, and point-of-purchase signage customers can expect from HP Latex technology, without a large upfront investment.
Building on the proven success of third-generation HP Latex technology, the HP Latex 110 Printer features:
Sharp image quality on prints that come out completely dry for same-day delivery
Professional, high-resolution prints up to 1200 x 1200 dpi with user-replaceable, six-color ink cartridges for vivid colors
Easy and intuitive operation with no specialist knowledge required
Automatic maintenance and front-loading features, as well as online learning tools and software assistance
A healthier work environment(1) – unlike solvent inks, water-based HP Latex inks are odorless with no special ventilation required,(2) features especially vital to print-preneurs operating from their home
Access to free professional solutions like HP WallArt Software, Media Certification Program and the HP Latex Mobile app – now available in twelve languages.
(1) Based on a comparison of HP Latex Ink technology to competitors with leading market share as of December, 2013 and analysis of published MSDS/SDSs and/or internal evaluation. Performance of specific attributes may vary by competitor and ink technology/formulation.
(2) HP Latex Inks were tested for Hazardous Air Pollutants, as defined in the Clean Air Act, per U.S. Environmental Protection Agency Method 311 (testing conducted in 2013) and none were detected.