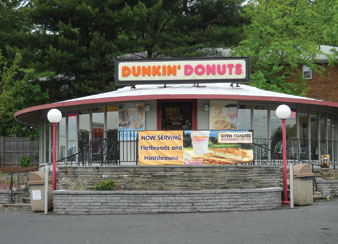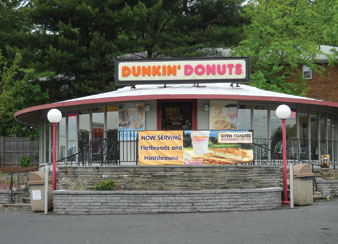 Jeff Wooten
When the profit numbers for a Dunkin' Donuts® in North Plainfield, New Jersey were lagging, the franchisee knew he needed a total interior and exterior remodel of not only his building—but also the signage.
Wayne Lucier has owned and operated the Dunkin' Donuts located along Route 22 in North Plainfield for two-and-a-half years now, but he does have some history on his side. This location was actually one of the first Dunkin' Donuts established in the area (built back in the 1940s), and it featured a retro look with its round, circular shape.
This dated appearance was affecting sales, and Lucier felt the speed of traffic along this busy highway was also proving a hindrance. Potential customers were briskly driving by without a second glance.
"I wanted to bring attention to the site with a renovation and a big, new pylon sign and directionals," says Lucier.
Mike Grosso, sales consultant with awning provider Capitol Awning Company in Jamaica, New York, agrees that facelifts are important. "New signage enhances the presence of properties," he says.
Capitol Awning is an approved manufacturer for multiple franchises, including the Dunkin' Donuts brand; in fact, they've worked on over 500 locations so far. "We're in their database when a franchisee has a need to do a remodel, but we also have a good reputation, as well," says Grosso. "Another franchisee will see a dramatic installation and then ask the owner who did it."
Another vendor for Dunkin' Donuts, eighty-five-year-old Ace Sign Company of Perth Amboy, New Jersey, has done a wide variety of design, build, and install work—everything from channel letters to carved signs to pylon signs. So they were familiar with what could (and couldn't) be done here.
Lucier already had prior experience working with both companies and so brought them on-board to help enhance his overall signage and visual experience. (Note: Capitol Awning and Ace Sign have worked together on many other projects, as well.)
Pylon and Directionals
Ace Sign created a brand-new, twenty-foot-tall, fluorescent-illuminated pylon sign with a pan-formed and embossed face for the location.
"We were going to just reface the existing pylon, but once we started digging into its many problems, we found it was just better to build a new one," says Phil Smith, Jr., the third-generation owner (along with his brother) of Ace Sign Company. (Note: Smith's grandfather started up the business with boxer "Ace" Friedman.)
They also custom-fabricated additional 4-by-2-1/2-foot directional signs at the curb so oncoming traffic would notice the Dunkin' Donuts. "We made these out of aluminum extrusions and cut the faces on our CNC router," says Smith.
Ace Sign replaced the Dunkin' Donuts sign on the roof with a new pan-formed and embossed face and did some service work to the pre-exisiting lamps and ballasts.
This project turned out to be quite a rush for the company—literally. They only had thirty days to build and install their signage before Lucier reopened.
"While the city was reviewing our permit applications, we were manufacturing the signs, because we'd already gotten a verbal approval from zoning," says Smith. "We were installing everything only a few short days later."
Canopy
Another new component of this remodel project is a canopy. For Lucier, this would not only add appeal along the busy Route 22, but it would also protect customers during rainy and snowy days. "We found that our business was being affected in inclement weather," he says, "as people just wouldn't come in."
After Lucier told Grosso what he had in mind for the canopy, the two went back-and-forth with sketches and Dunkin' Donuts corporate-approved color schemes. Grosso took a "before" shot of the site and then Photoshopped the new signage and canopies into the image. He then presented the rendering to Lucier to review.
The end-solution turned out to be a little bit of everything. "[Mike] showed me a booklet with a lot of their other projects, and I really liked combinations of some of them," says Lucier.
"We're really big on archiving and photographing other installations because that really sells our work," says Grosso.
Capitol Awnings custom-created the freestanding canopy and contoured it to follow the curve of the sets of ascending/descending steps located on the right- and left-side of the building front. "It's all made out of aluminum framework that was custom-bent and covered with a corporate-approved Startling Orange, Nightshade Brown, and White fabric awning material," says Grosso.
(Note: Grosso credits his CAD colleague Clark Paolini for going out to the site ahead of time and hitting a "home run" with the measurements in order to know how much framework and material was going to be needed.)
The "DD" designation used on the ends of the canopy is a pressure-sensitive applied vinyl.
A Giant Cup of Coffee
Inspired by its previous rooftop installation of a highly visible twelve-foot-tall Dunkin' Donuts cup along the elevated Prospect Expressway in Brooklyn, New York, Grosso suggested a similar-type structure to Lucier, who eagerly jumped at the idea.
"We've made all different sizes—even as small as six feet tall—for other locations," says Grosso. "We agreed on a ten-foot-tall version for this location."
The custom-decorated North Plainfield cup is made from a white vinyl awning substrate. "It's an all-aluminum framework with the awning fabric stapled into the framework," explains Grosso. "It's all welded construction, with high-output fluorescent lamps installed inside.
"It doesn't rotate, but then again, it really doesn't need to. You really can't miss it."
Grosso also convinced Lucier to replace the white globes atop the two lamp posts at the front of his establishment with mini-Dunkin' Donuts cups—made the same as the giant coffee cup. "They're also internally illuminated with high-output fluorescent bulbs," says Grosso.
Grosso was a bit reluctant about suggesting this idea, because many municipalities don't allow such installations. But after some encouragement from Lucier, he found the township was more than welcome to this concept and approved the drawings.
Less than a week later, Capitol Awning had everything fabricated and ready for installation.
The Installation
Dunkin' Donuts corporate makes their franchisees do a remodel every ten years (give or take), so the North Plainfield location was actually closed during much of the initial sign installation. Lucier had the building repainted, the roof reinsulated, and additional parking lot paving and landscaping performed.
For Ace Sign, the install covered two days. One day was devoted to the directional signs and the roof sign.
Because of the building's age and circular shape, there was no structural support for workers to be able to stand on the roof and work. "We had to get real creative with our aerial equipment and kind of 'float in the air,'" says Smith.
Ace Sign used its crane truck to lift the sign faces and cabinets into the air and then used a couple of bucket trucks on-site to hold the installers so they could guide the new signage and components into place.
"We had a crane on one side and a bucket on the other," says Smith. "We had to keep the bucket tilted at a certain angle where we could work on the signs, because the roof sloped.
"We were also on a pretty good hill. We had to do a lot of blocking underneath the crane in order to get it level." (Note: Fortunately for Smith, the neighboring business was kind enough to allow them to set up a boom truck in their parking lot.)
Ace Sign returned another day to erect the new pylon sign. "We removed the old cabinet with our crane and then installed the new cabinet onto the two support pipes that were directly buried into the ground," explains Smith.
Meanwhile it took five hours for the Capitol Awning installers to set up the pre-fabricated canopy and illuminated coffee cup. Most of this was due to making sure it was level and setting up the anchoring in the concrete.
Since the canopy installation was the last piece of this signage redo (at Lucier's request), the Dunkin' Donuts had already reopened for business by this time. "Customers were buying donuts and coffee, so we had to work around them," laughs Grosso, adding that video of this installation appears on the "CapitolAwning" YouTube™ channel. "But it was still a good environment with a lot of room to work."
Satisfied Customers
Lucier credits the new signage and canopy for increasing his customers—and profits. "There's been a lot of people who've come in who earlier would've never come back," he says.
"The front canopy really gives customers a 'warm welcome,'" agrees Smith, noting that Lucier had them install even more directional signs a few months later.
Lucier says one of the reasons he used Ace Sign and Capitol Awning is that they were quick to respond to his request. "When they do a job, they don't just take your money and show up with a 'big surprise' at the end," he says. "They really try to make sure you understand exactly what you're getting."
Photos courtesy of Capitol Awning Company.